Floor vases in the interior: the types and subtleties of choice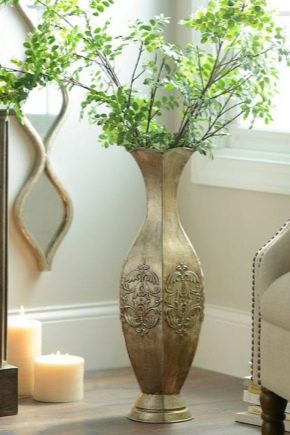 Even the most beautiful repair will not give a special atmosphere of coziness and home charm, if you do not use small decorating techniques in interior design. Floor vases are exactly the main touch that helps to make the necessary accents in the room and put into practice all the ideas, add a peculiar flavor and emphasize the stylistic preferences of the owner of the house.
Advantages and disadvantages
Vases with a height of more than 40 cm belong to the category of floor standing ones - lower products are not recommended to be put down, since they will simply be lost in the common space. Floor vases put on the floor, in niches, on low stands and sills. This interior accessory has come to us since ancient times.It is known, for example, that the ancient Greek masters created real masterpieces of art, which in those years served to store various aroma oils, amphoras, and also granular substances. Such products were found only in the most noble and wealthy homes, because they were considered an indicator of luxury and belonging to the upper class.
Actually, in our days, little has changed - large and stylish floor vases and are now considered a symbol of sophistication, luxury and impeccable taste. In the old days, vases were quite voluminous, modern vases are more refined and are more often used as an element of decor in combination with floral compositions.
Among the shortcomings, it is possible to note the high cost of the accessory, because a high-quality and stylish vase cannot be cheap, and you can only buy it in highly specialized stores.
Sizes and shapes
Floor vases can be high and low, 40-50 cm models are considered low, and longer ones can be high. Keep in mind that the larger the decor element, the more dimensional the room should be, a large vase in a small room will create a feeling of congestion.It is noted that large vases look better one by one, that is, in a single copy, but small vases should be combined into small groups and compositions.
In addition, vases can be narrow and, conversely, wide. The first ones visually draw the space, they look perfect in a group, it's much better to put wide ones in a corner or along a wall. For home decoration there are no clearly defined dimensions of the floor vase, all dimensional frames are limited only by the manufacturer's imagination, for example, in width this can be either very thin objects or models with wide sides.
But as for the length - here, as a rule, the upper limit is 1 meter. It does not make sense to make the items higher, then the vase filler will "hide" and the desired effect will not be achieved. The configuration of the floor vases are the most diverse, however, the main geometric trends can be traced.
Cylinders in the form of a cylinder are very popular, they are optimal for rooms decorated in a modern fashionable style, most often they are made of glass because, being filled with fresh flowers, they invariably make the interior more tender and summer.
Gypsum and ceramic are also very popular., because they immediately attract attention and become the final touch to the design composition. Rectangular, like square vases, are optimal in laconic designs, especially high-tech or minimalism, which are characterized by pronounced geometric lines and pointed corners. The round vase is more traditional, it will complement the room, decorated in the style of Provence, country, and will also be very harmonious in the traditional classical interior, bringing a touch of grace.
In addition to the familiar varieties of vases, floor versions often look quite unusual. For example, a vase in the form of a human silhouette from a wire, a complex geometric shape. They can also be spherical with a small hollow hole.
Materials
For the manufacture of floor vases can be used a variety of materials.
Ceramic option considered one of the most common worldwide. Such vases can be made of any shape, and then painted with paint and decorated in any desired style.
Very stylish and modern look. glass vases, while they are quite massive, therefore, very stable on the floor.The glass used in the production of volumetric floor vases can be brilliant or opaque, completely transparent or colored, monotonous or with pronounced figured patterns.
No less stylish look plastic products, it is light and strong material, besides it is simple in technological processing. Therefore, plastic can be used to build a vase of absolutely any shape and any decor. However, they are very light, so if at home there are small children or beloved pets, be prepared for the fact that the vase will constantly fall.
Exceptionally atmospheric and cozy look wicker. wicker or rattan. These are lightweight products, they do not break when dropped, although with a strong physical impact they can seriously deform. They look great in a living room decorated in country or Provence style and harmonize with dried flowers.
Porcelain Vases will not leave anyone indifferent. This is a fragile and extremely refined decor element that better than any words indicates the status and taste of the owner of the room. This item looks good near the fireplace or along the walls.
Wooden vases very stylish, and each piece is unique, because every type of wood has its own special pattern. Such products are carried out both with carved details and with aligned walls. However, keep in mind that wood reacts to moisture, so do not put fresh flowers in water in such a pot.
Separately, it should be mentioned about crystal vases - These are figural products with carved walls, which form an amazing play of light, twinkle and shimmer, emphasizing the gloss, luxury and aristocracy of the living room.
Metal vases look extremely stylish, and in a variety of interiors. Thus, the yellow metal is more suitable for oriental style, forged products can decorate the style of the chalet and rustic country, and chrome will be appropriate in modern rooms with a predominance of glass.
Gypsum also often becomes a material for the manufacture of floor vases, such products are cast in a special form, so they have a relatively low cost.
But the vases from natural stone differ in unusual beauty, onyx and malachite are most often used for production.Stone models are quite massive and heavy, and they are quite expensive, but their appearance certainly justifies all these shortcomings.
Design
Floor vases are made in a variety of designs, The following are considered the most popular.
Carved - made of wood, plastic or ceramics, they look like lace. Even the most voluminous and high products look elegant. Such vases, as a rule, have a small weight, so they are best placed in a safe place.
With painting - stylish vases that are good for ethnic interiors, most often this design in the style of gzhel light blue color. Very effectively, if the same ornaments are repeated in other home furnishings, to maintain a single design concept.
The lamp in the form of a flower - this vase not only performs the main function of decorating a room, but is also used instead of a lighting object. Such products are good for bedrooms, as well as a children's room. They are harmonious in traditional interior and in modern style. Such a vase itself is a complete decorative element, therefore it does not require additional decoration.
Another type of light object is vase floor lampwhich is often installed in living rooms, making them more comfortable and truly warm in the evening.
Looks very unusual floor vase potsIt is usually made from clay and represents a large flower pot. Such products well emphasize ethnic motifs in the room; they particularly emphasize oriental ornaments.
Vases with rhinestones suitable lovers of glitter and gloss, such accessories are optimal for modern designs of modern, where even a small amount of rhinestones effectively emphasizes the color patterns.
You can arrange a vase in decoupage technique. Such a hand-made original design will allow you to fully reveal the concept and color scheme of the interior.
How to choose?
Choosing a floor vase is not an easy decision, because it will become part of your style and should emphasize and shade it, rather than conflict.
For high-tech style it is better to stay on chrome-plated vessels, but for the classics you should buy a luxurious vessel made of ceramicsand if it is painted by hand, it guarantees that you will get into the "desyatochku".In addition, the classic goes well with simple white flowerpots, and painted flowers add a touch of elegance to them. For the Egyptian style is characterized by clear geometric lines, but African motifs can fully embody a vase made of wood or imitation of branches with all sorts of ethnic images.
Minimalism fit transparent narrow decors. All fans of vintage style or chebbi chic will surely like pastel shades with an artificially created effect of aged or patina.
But avant-garde lovers should pay attention to the pot of irregular shape, because the main features of this style are considered to be non-trivial combinations of incompatible and courage.
It is important to consider the characteristics of the room in which you plan to put the vase. So, in the bedroom it is better to pick up products of delicate pastel colors, which will contribute to relaxation. For a living room it is worth experimenting with styles, shapes and tones - depending on the general concept of the room, you can put bright accents or emphasize serenity and family coziness - there are no restrictions for imagination.
It is quite difficult to choose the optimal floor vase for the hallway, because it is for her guests that make up the first impression about the owners. So, unusual products will tell about the originality of homeowners, strict forms will emphasize their restraint and conciseness.
In the kitchen, it is better to put a vase-pot filled with a composition of fresh or artificial flowers, decorations that imitate fruits and berries look good - they can improve the mood and emphasize the functionality of the room.
Successful examples in the interior
Floor vase is a very good interior idea.
For each style, its own variants of floor vases are good, for example, brown products made of clay are suitable for country style.
For Provence and Chebbi Chic, it is better to give preference to vases with an artificially aged coating.
Modern styles look great elite glass and metal jewelry.
Floor vases perfectly emphasize Chinese and Egyptian ornaments.
Popular and Russian folk motifs.
How to make a unique floor vase with your own hands, see the next video.