French balcony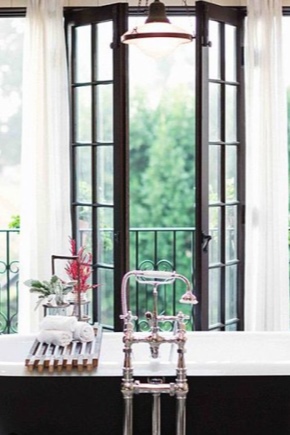 What is it and what advantages does it have?
Forged fences can have different shapes, most often they are made in the form of a curved, convex basket.
Kinds
The choice of the type of French balcony depends on the wishes of the customer. Someone just wants to arrange the window opening in an original way, someone would prefer a full-fledged construction with doors, fencing and railings.
A wrought iron balcony can have a square, rectangular, round shape, be convex or concave, have railings and fences, be decorated with decor, or remain strict and concise.
Decor and arrangement
It has long been known that it is the little things that give the image a finished and beautiful look. This applies to furniture for the design of the balcony. It can be gold or silver in color, be performed in an elegant, elegant form, be decorated with decor.
A constructive feature of the French balcony is a panoramic glazing, that is, from floor to ceiling.Naturally, it is necessary to think about how to hide the room from excessive light, as well as prying eyes. The best option for this - curtains, drapes or blinds.
How to do it yourself?
It is better to entrust all work related to glazing to specialists. The constructions for creating panoramic glazing are very bulky. Raise them to the upper floors of the house without damaging, it is quite time-consuming and difficult.
Design Ideas