Peaks over the balconies: design features and installation methods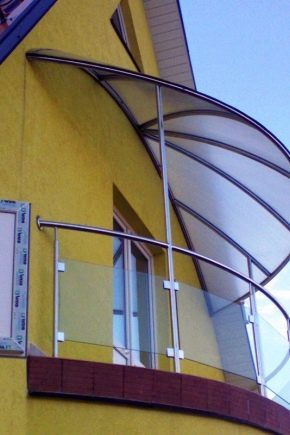 Advantages and disadvantages
Manufacturing materials
Polycarbonate has good sound qualities, but if it is transparent, it will be a bad protection from the sun.
They are used when you need to protect the space of the balcony, but you cannot change the overall style of the building.
Kinds
Arched visor looks very beautiful, especially if the retaining element of the structure is forged.
The option is convenient when it is impossible to choose curtains, for example, for a frameless type of glazing.
Installation Tips
Fastening to the wall let's say ordinary screws.
Unprocessed metal will lose its quality over time, the appearance of the structure will deteriorate.
A layer of noise insulation must be laid from the inside, under the main surface material.
To install it is better to call the experts.
Repairs