Kitchen on the balcony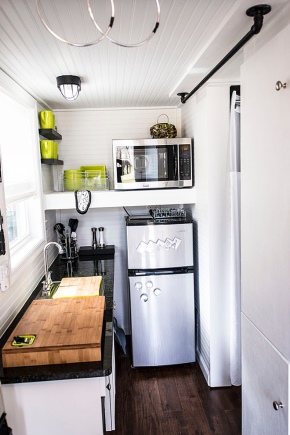 Advantages and disadvantages of the connection
Any changes have their own advantages and disadvantages, and such a significant intervention in the original layout as the transfer of the kitchen to the balcony could not do without them. It is important to calculate whether such a large-scale action of the funds invested in it is worth it - maybe the game is not worth the candle.
Thus, it is important to be able to assess in time whether it is worth taking up such a thing at all, because it will be impossible to stop or change your mind in the middle of the process.
Determine the type of wall
Merger permission
Under the strictest prohibition is interfering with the bearing wall, because it can lead to the deformation of common house supporting structures and the destruction of the building.
Combination options
To make a complete kitchen on the loggia, you will have to make major changes, for example, to lay additional pipes for water and sewage systems - they can be installed in the floor or covered with a special duct.Additional lighting is also required.
Features redevelopment
It is important to carefully and thoughtfully approach the choice of finishing materials - they should not exert excessive pressure on the floor slab.At the device of an extract it is necessary to provide protective valves.
Making the kitchen from the balcony: step by step instructions
Preparatory work on the premises
Glazing of a previously unglazed loggia or replacement of a glazing with a new one
Demolition of doorways
Warming balcony area
Transfer and extension of engineering communications
Arrangement of the working area
Ideas for windows and the whole room
Interior design options
Reviews