Wall-mounted clothes dryer to the balcony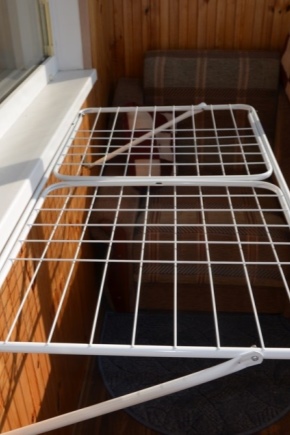 Benefits
They are easy to install, so you do not need to call the masters and look for specialized construction equipment.
Kinds
Stationary
Most owners prefer to fix them on the outside of the balcony. This location has its pros and cons.
Sliding
Most often they are small in width (from half a meter to 1.2 m), so they are more suitable for drying casual clothes, and bed linen will not fit them.
Folding
Wallfix dryers do not have the above disadvantages. This is a robust design consisting of metal tubes that extend from a stationary box diagonally. The laundry is hung on ropes stretched between the tubes.
Folding
This model takes up a lot of space on the wall, but in this case the flip-down dryer performs a decorative function. There are many models of different colors and with the original design.
"Elevator"
Electric drier
When installing and operating this type of equipment, it is necessary to observe all necessary safety measures. To connect electric dryers better to invite a specialist.
Material
It is worth avoiding mechanisms with a polymer powder coating. Moisture it cracks, loses its appearance and will spoil clothes.
Device
How to choose?
How to do it yourself?
Interesting ideas in the interior