Glazing of the balcony in the "Khrushchev"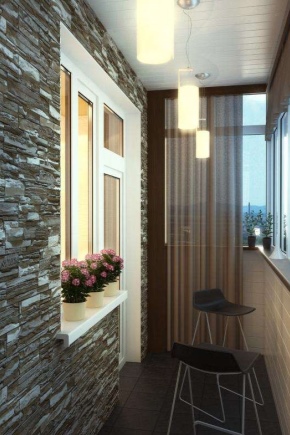 Khrushchev - an apartment with a small area. Because of their size, they are not considered to be the most convenient, therefore the owners of such dwellings tend to increase square meters by any means. To achieve this goal, balcony blocks are often used.
Advantages and disadvantages
Expansion of space with the help of balconies is a very popular solution, which is addressed to many residents of small apartments. But first you need to glaze the balcony.
High-quality glazing can make the room more cozy and comfortable. It protects the balcony block from temperature drops, precipitation and other negative environmental factors. The room will become more functional: you can store vegetables, canned food and other things that have no place in the apartment on the glassed-in balcony.
If we are talking about warm glazing, then on such a balcony it is possible to equip a full-fledged living room for rest, work or reading books. But in the conditions of Khrushchev such finishing is not always possible, since it has considerable weight.
For balcony blocks in such houses it is worthwhile to select such window structures that will not be too heavy, because an extra load on the concrete floor can lead to serious unpleasant consequences. Often, the facades of houses were covered with cracks due to heavy warm and plastic glazing. The saddest ending may be the collapse of the installed structures.
But do not think that for such balconies it is difficult to find suitable window designs. For Khrushchev fit not only cold aluminum frames with single-layer glass, but also beautiful and eco-friendly models made of wood of different shades. It is possible to install expensive warm glazing, but only if the technical condition of the house and floors allows it.
Before direct installation of windows, it is necessary to contact specialists who will assess the state of the concrete floor and will carry out all the necessary work to strengthen it.
Do not install glazing on such balconies with your own hands.As a rule, concrete structures in Khrushchev are old and fragile, so you should work with them very carefully and carefully. It is better to entrust this business to professionals.
Options
There are several options for balcony glazing in Khrushchev. All designs have their pros and cons, which you should be aware of if you plan to install new windows on your balcony.
For Khrushchev ideal cold glazing. It is inexpensive and easy to install. Thanks to him, the inside of the balcony will be perfectly protected from penetration of drafts, dampness and moisture.
Cold glazing is lightweight. As a rule, in such constructions there are aluminum frames - not only very light, but also strong, durable and wear-resistant.
Aluminum frames come in different colors. You can choose the perfect option that will harmoniously fit into the overall ensemble of the apartment.
But such windows have their drawbacks. Balcony equipped with such elements will be cold. When you try to open the sash in winter, an unpleasant surprise can wait for you: aluminum profiles often freeze and become covered with ice.
Even powerful heaters and heaters for floors, walls and ceilings will not save such a room from the cold.The temperature in the inside will not be much different from the outside. However, balconies with cold glazing are ideal for hanging out on their territory in the summer. Inside will be cool and fresh.
Can not boast such a window design and good sound insulation. Yard noise and the howling of the wind will be well heard in the apartment. Part of this problem can be solved by installing a high-quality plastic door leading to the balcony.
Create a favorable microclimate on the balcony by using warm glazing. This option is more expensive than the cold, but also has a large number of positive characteristics.
High-quality warm glazing will allow the use of the balcony room year-round, as it is hermetic and has excellent sound and heat insulation and allows you to convert a low-functional area into a residential and useful.
With these designs, you can safely organize on the balcony a small office, a winter garden or a relaxation area with an easy chair. But it is necessary to take into account the fact that the design is not recommended to expose unnecessary loads, so a large amount of furniture there should not be taken out.
Such glazing has a great weight, so you should choose such designs, in which there are lighter materials.
In summer, the balconies with warm glazing can be very hot and stuffy. Many buyers include such a nuance to the disadvantages of window designs.
If the premises are located on the highest floors, they must be equipped with a roof. Such a detail will require additional costs and installation work. We must not forget that the installation of such a visor should be coordinated in the respective organizations.
Balcony glazing can have different designs. Consider the most popular and attractive options:
If you want to let in more light in living rooms, then you should turn to the frameless version. Such systems look very light and airy. Folds open and close with plastic rollers. Do not think that such systems are fragile. For frameless constructions, very strong, tempered glass is used. For the Khrushchev, they can be picked up only in the cold version, otherwise the balcony ceiling will be overloaded.
Panoramic windows are distinguished by excellent light transmission. These designs look very original and attractive. Such a glazing will cost more than other options. Many apartment owners specially design the balconies so that they can later sell the living space for a higher price. The installation of such systems is more time consuming and labor intensive. You should not try to make the installation of panoramic structures in Khrushchev. Entrust this work to professionals.
Balcony in Khrushchev can be glazed with the removal. This option will increase the floor space. As a result, you get a large window sill that extends beyond the concrete slab. Visually, the space will seem more spacious.
Suitable for Khrushchev and beautiful French glazing. This option implies the presence of glass, going from the floor to the ceiling. Such constructions will coil easy and provide an excellent overview. It is not recommended to install such window systems if the balcony faces south. In such conditions, the room will turn into a real greenhouse.
Types of windows
In the balcony glazing may be various options for frames. These parts are made of durable and durable materials.
Plastic copies are the most common. They have excellent thermal and noise insulation characteristics. Plastic structures are inexpensive and look very neat.
Plastic does not require special and regular care. It is very easy to clean its surface from dust and dirt. You do not need to buy special formulations. It is possible to do with simple detergents.
Plastic frames are not afraid of temperature extremes and harsh weather conditions. This explains their durability and wear resistance.
However, the warm glazing in this version will have too much weight and for the Khrushchev this option will not work.
Aluminum frames in the balcony glazing are distinguished by their durability and durability. Such details are most often present in cold glazing. They are lightweight and look attractive.
Among the drawbacks of such structures, it is possible to note their susceptibility to freezing at low temperatures and weak tightness.
With aluminum profiles, drafts and cold air will enter the room.
Unsurpassed appearance can boast wooden structures. They look harmonious on small balconies, have good thermal insulation characteristics, but require special treatment. The tree needs to be treated from time to time with special protective agents that will prolong the life of the material and allow you to maintain an attractive appearance for a long time.
But even regular care will not save wooden frames from drying out and cracking. It will be impossible to get rid of such defects and the tree will become less attractive.
Tips for choosing
For decoration of the balcony block in the Khrushchev is recommended to refer to the light types of glazing. Such structures will not have a negative impact on concrete floors.
The best option for such housing would be cold glazing with durable aluminum frames. But you must understand that it will not keep heat indoors, and you will not be able to use the balcony all year round.
This option is suitable for those owners who want to store vegetables, jars or different things on the balcony, and not to use it as a living room.
Cold aluminum glazing is also suitable for those who are not ready to spend large sums on the installation of a more expensive warm version and additional reinforcement of concrete floors.
A good solution would be wooden structures. They look beautiful, but you have to take care of them regularly.
If you plan to use the balcony in any season, then a warm glazing will be an ideal option. Designs with plastic profiles and frameless versions will have a lot of weight, so they are suitable for your balcony only if its technical condition allows.
Before you make the final choice, be sure to contact the professionals who come and appreciate the condition of the concrete slab on which the balcony block is located. Only they can tell you which glazing can be installed and which one is better to refuse.
You can get acquainted with the details of the glazing and other repairs on the balcony in the video below.