Balcony finish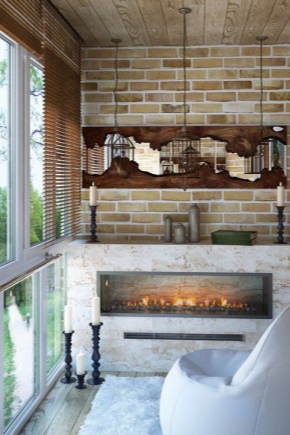 Features and nuances
Today the situation has changed dramatically. People began to turn their balconies into real rooms with pieces of furniture, decorative details and hanging chandeliers. In such areas, you can not only admire the city streets, but also work, relax, engage in creative work or sports.
The range of floor, wall and ceiling coatings allows you to let your imagination go free and beat the balcony so that it will be very comfortable and beautiful.
Types of wall, ceiling and floor finishes
The prevalence of such materials due to their unpretentiousness. For the walls, trimmed with plastic panels, do not have to regularly take care with the help of special tools.
But this finishing material has some disadvantages.These panels do not tolerate moisture or moisture exposure, like any wood.
Similar options today are available in different colors.
Not to mention the non-flammability of this material. Over time, it will not rot and deteriorate externally.
Experienced builders note the durability and practicality of such a finish. There is no need to take care of plaster. Branded plasters are resistant to mechanical damage. They do not peel off and do not fade even after many years.
For interior decoration of a balcony block, experts recommend turning to a vinyl block house, since it is much lighter than wooden one.
Cork wallpapers are a good alternative to traditional paper products. They are not afraid of moisture, moisture and sunlight. Their distinguishing feature is density.
It should be noted wear resistance of this option. Laminate is able to withstand heavy weight and various mechanical loads.But it is recommended to apply to this option of finishing only if the floor on your balcony is perfectly level or you have prepared it in advance for the installation of laminate flooring.
The tile is not afraid of exposure to chemicals.It can be easily and quickly cleaned of any kind of pollution.
The terrace board does not decay over time, is not afraid of damp. Many owners choose this material for its strength: this board is not subject to deformation and swelling.
Materials for the street
Today, reinforced panels are sold in stores. They are stronger and more durable. It is these options recommended by experts.
Do not be afraid of the fineness of sheets of corrugated board. Their reliability and durability is due to a special relief surface.
Balconies with such appearance are very bright. Visually, they are able to make living space more spacious.
Where to begin?
Do not proceed to interior decoration, until you complete the work on the insulation of the balcony. Without insulation, only front materials that do not look very aesthetically pleasing in residential environments will be suitable for room decoration.
Experts say that after additional procedures in relation to mineral wool, it becomes like polystyrene foam.
If you want to process the balcony with polyurethane foam, then first you should find a team that is ready to provide you with such a service. Be prepared to pay a tidy sum for it.
The disadvantage of this insulation is its high cost. Not everyone can afford it.
Warm balcony
The better to finish the cold balcony inside?
These factors force you to choose only a solid, reliable and durable interior trim.
For wall cladding on open balconies fit lining or siding. Such materials are not afraid of temperature drops. They are not afraid of excessive moisture and moisture.
For facing the ceiling is better to turn to plastic panels or plaster. They are not afraid of low temperatures and harsh weather conditions. In no case can not finish the ceiling with drywall. This material is very fragile and should not be installed on an open balcony or loggia.
Options for a small room
If your room is small, then do not be upset. This is not an obstacle to creating a spectacular room.
Interesting ideas in the interior
In this design looks great frame of natural light wood and white plastic. Often in such areas bred real winter gardens. Flowers is made out not only the inner but also the outer side of the balcony. Pots with hanging plants or hanging pots are complemented by the edges of window frames or parapets.
Particularly impressive are the exits to the balcony in the form of an arch or a high square opening. Often on one side there is a protruding part of the wall, which plays the role of a small shelf. You can put decorative details on it: flowers, colored bottles, photographs.
Such a decorative design will suit the open balcony. Complete it with a wrought dark parapet. Such an ensemble will look very romantic and attractive.