How and from what to make ceilings on the balcony?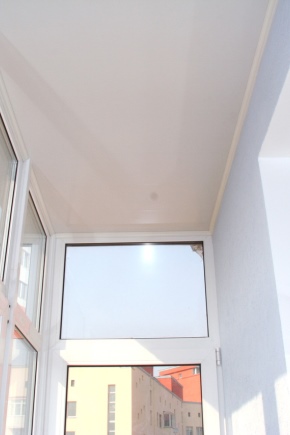 Requirements for the balcony and materials
But if you are not going to glaze the balcony block, then there will be no sense in the ceiling heater. A prerequisite will only waterproofing.
Balcony waterproofing
As a rule, droplets flow into the seams on the facade or leak through the ceiling.
The saddest ending may be the corrosion of the reinforcement in the balcony slab. Over time, this will lead to an emergency condition of the room.
If your neighbors' balcony is cold or not at all, then the ceiling should be warmed. The meaning of such work is only if the balcony block is glazed.
Balcony Warming
What is being done and which one is better?
Clapboard
Installation of such panels is not a big deal and does not take much time.
PVC panels
Plastic ceiling can be washed with conventional detergents. Over time, he will not lose an attractive appearance.
Rack ceiling
Drywall
Stretch ceiling
Mounting such a decoration yourself will be very difficult. It is recommended to contact the specialists, in the arsenal of which there is all the necessary equipment for the safe and high-quality installation of the stretch ceiling.
Painting options
A good choice would be water-based paint. It is better to choose white color, since it is neutral and does not visually reduce the space.
Stages of work
All stages of the installation of such a ceiling are very simple and do not take much time.