Sliding windows to the balcony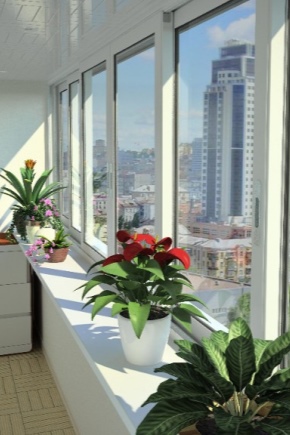 Advantages and disadvantages
Poor quality mechanisms can cause a lot of inconvenience in the form of jams and incomplete disclosures.
The balcony will be better lit with sliding structures, because the glazing area itself is larger.
It is worth noting that the cost of such a finish is not much different from the classic options with hinged windows.
The presence of any deformation or distortion of the frame can lead to malfunction of the sliding mechanism.
Types of designs
Cold Sliding Windows
Warm sliding windows
Sliding systems with warm double-glazed windows have increased sealing, so the room will always be very warm and cozy.
Material
Plastic
Sliding plastic windows will last a very long time and will not lose their attractive appearance even after many years.
Such systems do not require special care. Plastic is easily cleaned from dust and dirt with ordinary detergents.
Aluminum
Aluminum options are lighter and easier to install. They can easily be mounted independently.
Tree
Decor
How to choose?
How to care?
Use soft microfiber cloths or soft sponges.
Once a year it is recommended to lubricate aluminum guides with silicone oil in the composition.
Installation
Ideas in the interior
With this design, the balcony room will look lighter and longer.