Curtains in the kitchen with a balcony door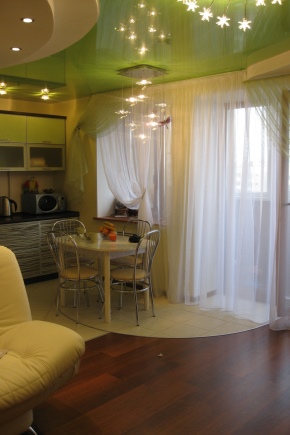 Curtain requirements
Kinds
Fabrics made from natural fibers must include an admixture of synthetic fibers to simplify the care. It is not recommended to acquire pure synthetics - it is fire hazardous. In addition, when ignited, smokes and emits harmful substances. It is necessary to choose fabrics with impregnations that resist the penetration of dust, grease and moisture.
It is important to choose the design and length, which will provide free opening of the balcony doors.
Curtains
Roll and roman curtains
Roller blinds and roman blinds are pretty tightly attached to the glass, due to this there is free access to the window sill. They will be a practical solution for small-sized kitchens, as they allow the use of the window sill as an additional work surface.
Horizontal and vertical blinds
Bamboo structures
Japanese panels
Tulle
Kisey
Materials
Based on these conditions, you should avoid crocheted cotton fabrics, excessive numbers of frills, ruffles and bulky embroidery, impermeable and velvet fabrics. Such materials will quickly lose their neat appearance after frequent washes, dry for a long time and instantly absorb odors.
Color and pattern
Textiles look impressive in contrast with the basic tone of the kitchen.
Accessories
Using them too bulky and long curtains can be decorated and give them the appropriate footage and shape, which will give a great zest to the appearance, and protect the owners from accidental ignition of curtains during a gust of wind.
Accessories for curtains can be purchased in specialized stores, or create yourself. The main thing is not to overdo it with the amount and not to overload the kitchen interior.
Fastening and eaves
Selection features
When choosing the type of window curtains in the kitchen with a balcony, you should give importance to the type of balcony group.There are hinged glazed and asymmetrical with a side window.
Another element that should be considered when choosing the type and length for decorating windows is a heating radiator. If it is unsympathetic, then it is better to hide it behind long curtains.
Professional Tips
Beautiful design options