Clothes dryer to the balcony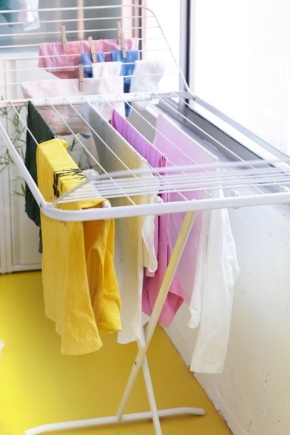 Types and features
Ceiling
This type of dryer is poorly suited for drying small items. The design is somewhat complicated to install and requires additional fixing options.
The only drawback of this type is the need to use an auxiliary support each time in order to hang out the laundry.
Placement of linen on this hanging structure must be balanced, without skewing, otherwise the device will not be able to be raised to the desired height.
But this option has its drawbacks. A complex structure consisting of many parts, most of which are made of plastic. Temperature drops not in the best way affect the durability of the whole structure. This is especially true for open balconies.
Wall mounted
A more versatile and modern look - sliding dryers, compact, reliable and placed on any wall, but they are suitable only for a small number of things. Their design is not designed for heavy loads.
This type of device is designed exclusively for things that can be placed only on hangers. For bed linen, this type is not suitable
Hinged
Outdoor
This is the most common option, located in any convenient place.
Electric
With the help of an electric model, you can dry things in the cold season, especially it will help out in the absence of heating.
Outdoor
Do not forget that the placement of outdoor dryers, especially on the front of the building, in some localities is prohibited.
How to choose?
Having determined the type and design of the device, as well as its location, it is necessary to take into account its dimensions. Write down how much space the design with linen and how much - in the folded state.
When choosing, remember that the high humidity when drying in the room adversely affects the furniture.
How to install
How to do it yourself