Choosing a sofa in the office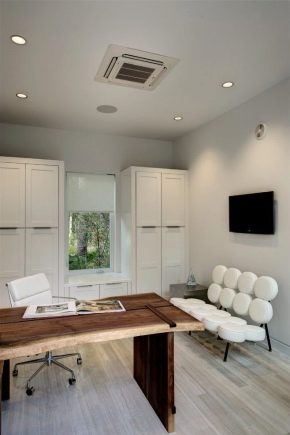 There is a popular misconception that the office in the house is interesting for one businessmen, respectable officials, writers and other people of the same circle. In fact, it is not. Whoever you are, the apartment should have a plot that allows you to retire, familiarize yourself with books and documents, hold an important meeting, or simply make a serious decision. And since such cases are tedious, it is very important to choose a good sofa in the office.
Special features
Many apartments can not boast a large area, and therefore allocate a separate room under the office does not work. Then organize a built-in place to work,that you need to consider when thinking about furnishing such a place.
Key decision parameters are:
The exact amount of space.
The basic rules of ergonomics.
Style room arrangement.
The main colors for furniture in the home office are considered dark brown and dark cherry (although you can choose their individual shades to emphasize this or that idea). These colors set up a working mood, and also increase concentration, reducing the likelihood of error.
Models and selection
A sofa bed, an ottoman or even a sofa are types of upholstered furniture for the study, which are not always used, but they help make the space more comfortable. In the expensive interior, emphasizing the respectability of the owners, the role of the sofa is very large. It can become the semantic center of the composition as a whole.
In order to avoid mistakes when choosing, it is recommended to make a design project. Most often it is formed when the work area is located in a separate room. This is important for the selection of furniture of the optimal size and its proper placement. But even with less space, these circumstances are also extremely important.
Style
It is necessary to select furniture exactly under the dominant style of the house or apartment.
Classic
In the classic interior will look harmonious massive options based on natural materials. In addition to the above colors, suitable pastel and cream colors.
It is possible to use saturated green and brown shades, but it is better to coordinate such moves with experienced designers.
Minimalism
A minimalistic environment will suit those who are young (at least internally) and full of energy, creative plans and ambitions. The predominant color is white, interspersed with gray tones. The direct geometry, strict functionality of furniture is preferable.
High tech
Choosing high-tech, you need to focus on monochrome sofas with strict geometric shapes.
Country and Scandinavian styles
The situation in the country style is not the most comfortable in home offices, but if the whole house is decorated like this, it is not recommended to stand out from the general line in this part of it. In such a case, you need to choose upholstered furniture with checkered or striped textiles in the upholstery, and from the colors to prefer natural and not too bright tones.Much better for the cabinet is the Scandinavian format - in it all furniture products should be strictly functional and practical, and the absolute dominance of white color is welcome.
Loft
As for such an approach as a loft, it is recommended not only to creative and energetic people, but to those who like to surround themselves with everything non-standard. Then it is necessary to emphasize the coarse brickwork, wooden beams, which allow large windows to pass through maximum light. Of course, in such an environment, the simplest and most familiar sofa will not look full.
Tips for choosing
To use a folding sofa, preferably where there is not enough space.
The leather look of upholstered furniture in comparison with the usual one emphasizes your solidity and seriousness much better. Of course, this is not so important for a private individual, but if you decide to use your home office for business negotiations with business partners, investors and creditors, then this is much more important. Yes, and for the reception of customers, this solution is preferred.
Carefully consider the purpose for which the sofa is purchased in the office:
It's one thing if you need it as a seat for you and your guests.
Another, when the sofa will play the role of the organizer of the interior, will help in the zoning of space.
And third, if you want to organize an extra bed (this is more important for those who constantly spend time in classrooms).
For small rooms, the optimal solution is a double sofa, and large corner products are not suitable.
Leather and flock - these are two materials that poorly get dirty, thus facilitating everyday care.
A very important selection criterion is the stiffness of the armrests. This requirement will ensure comfort and coziness when working. Always check personally whether it is comfortable to sit on the couch, and in various postures. Require proof of safety of used materials.
When selecting the size of the sofa attention should be paid to the height of the room. So, if the room is relatively low, a high piece of furniture will look ridiculous and inappropriate. If you want to be able to move the sofa easily and freely, then it is worth considering that the wooden frame will be better than the metal one.But if in the first place there are considerations of strength and stability, the situation will be reversed.
Examples in the interior
For registration of working space you can choose any sofa. The main thing is that it fully satisfies your tastes and allows you to solve all problems. It looks very attractive product with a high back, with a harmonious combination of white upholstery and its refined dark brown base.
White piece of furniture, attached to the elegant wooden wall, decorated with beautiful and thoughtful patterns - one of the best options. But the green sofa is more appropriate to combine with immaculately white or inconspicuous light walls. It should be decorated with light cushions and a vase of flowers.
How to make a sofa with your own hands, you will learn from the following video.