Types and features of Christmas garlands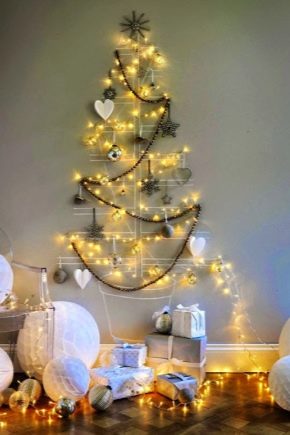 Kinds
Materials and forms of manufacture
Different masters turn to different materials. Fans of non-standard solutions decorate Christmas tree lights with real cones, small figures of New Year's themes and many other similar trifles. The result is a truly unique and spectacular decorations for the Christmas tree.
Colors
Monochrome
All of these options look aesthetically pleasing and fashionable. Many users combine them with Christmas decorations from the same collection. The result is an unobtrusive and discreet, but stylish and solid ensemble.
Chameleon
How to hang?
It is worth taking the first cord of the garland in your hand. Fix the last light bulb on the highest point of the tree. Select the part of the tree to work with. Mentally draw a triangle. Distribute the garland in this area, making movements in the direction from right to left.
Tips for choosing
It is advisable to purchase Christmas decorations that are powered by electricity in reliable stores that have a good reputation in your city.
Beautiful examples