Making and decorating Christmas balls with your own hands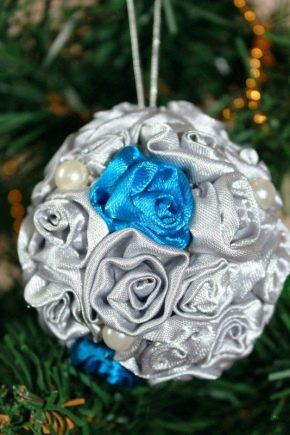 Making balls of beads, buttons, sequins and threads
Make an exclusive Christmas decoration using beads is a snap.
Paper application
Christmas balls made using decoupage technique look very nice.
From newspaper tubes
From paper flowers
In this case, the flowers will be attached by inserting into each other.
Corrugated paper
With photo
To decorate a hairpin with a beautiful bow. To varnish a toy, to suspend up to full drying.
Textile decoration
From fabric
By adding these white figures of different sizes with beads, satin bows, lace and rhinestones at the base of the toy, you can get a magnificent festive ball.
With embroidery
Tied up
The foam ball is inserted into the knitted product at the beginning of the mating of the 29th row, that is, before the loop is lowered.
With wool
With lace
Toys from natural materials
Cinnamon
From branches
From acorns
On the edges of each cap, apply a few drops of glue and sprinkle with sequins.
Of cones
Painting