Paper Garlands: Interesting Ideas and DIY Tips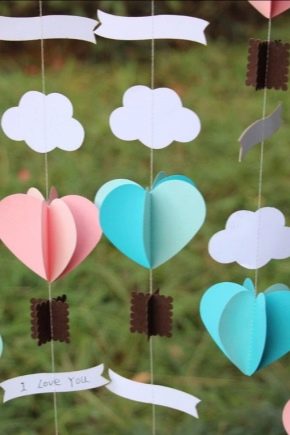 Necessary materials
By the way, such devices help save time on cutting elements. For example, you can purchase a finished punch unit, which makes it easier to make even circles than spend time on it.
Types and tips for making
Geometric Festoon
Stretch Garland
To make the mounts more durable when the garland will be stretched, you can not glue them together, but connect them with a stapler.
Butterflies
Checkboxes
With tassels
With hearts
For example, the volumetric hearts connected among themselves, consisting of smaller hearts beautifully look.
New Year's
"Chain"
Floral
Rainbow Ribbons
"Figures"
The figure can be made not only flat, you can create the effect of a stitched product by stitching elements on a paper base.
"Flashlights"
If you want something else, you can use colored paper, folding it with an accordion with a distance of 0.5 cm, making oblique corners in the center.
Application in the interior