How to make Christmas decorations on the bottle with your own hands?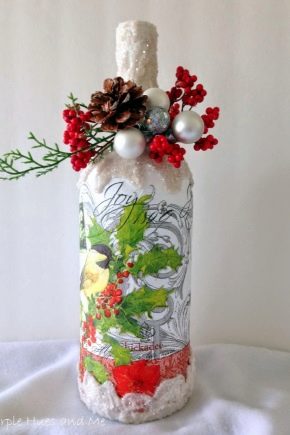 Ribbon decoration
If there is very little time left, you can only take champagne, hang a satin ribbon on the neck and add the composition with fir cones, bunches of mountain ash, lace or beads.
In addition to such methods, you can wrap jars or bottles with satin ribbons in a chaotic manner, or tie them in bows on a cover made of paper or fabric. The product will look quite stylish if you put a piece of velvet fabric or fur on the neck and link it with a beautiful multi-colored brooch.
Felt decor
Figurines cut from felt that adorn the lower part of the bottle or jar will look festive, such mini-figures will decorate the neck of the bottle.For a festive decor, it is useful to decorate all kinds of tinsel, beads, pearls, and shells.
Knitted ornaments
Threads of red color should be chosen for registration of a cover-suit for Santa Claus.
Will look spectacular cans and bottles, decorated with stained glass paints. In addition, you can paint them with acrylic paints, or use a decorative spray.
Decoupage
To complete the festive look, satin ribbons and bright tinsel are hung on the bottle neck for decoration. To originally decorate the resulting masterpiece, you can wrap sparkling wine with bright shiny beads.