How to make a Christmas garland from paper with your own hands?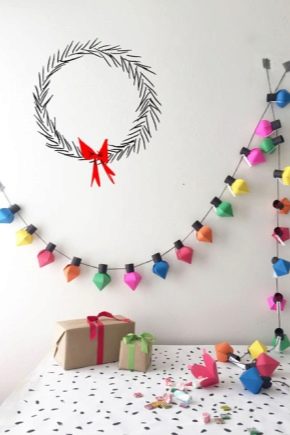 What can be made from colored paper?
Rainbow garland
The best way to make such a garland is multi-colored, and the shades can be alternated alternately, and can be formed smoothly, moving from one to another.
Rainbow ribbons
Christmas chain
Christmas garland
By the way, for making garlands you can take not colored paper, but the leaves of old books, in this case you will get retro and vintage decorations that are so popular in recent years.
Apply candy wrappers
Garland can be done in two ways.
Option 1
Option 2
Such a pastime will bring joy to both of them.
We use corrugated material
Figures and snowflakes
Garland of figures can be made differently.
Origami garland
Beautiful examples