Types and features of glass Christmas balls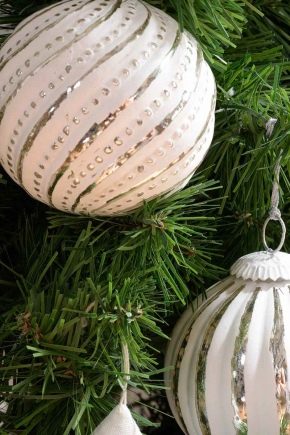 Every December, almost every apartment in the country is in full swing preparing for one of the most important holidays - the New Year. Gifts for relatives and friends are bought, a holiday table menu is compiled, and most importantly - a Christmas tree is dressed up.
They decorate the green "guest" with toys and festoons, hang tinsel and shiny "rain" on it, sprinkle it with artificial snow. Nevertheless, the most traditional decoration of the New Year tree is a variety of glass balls hanging along the branches.
Appearance history
Long ago, the ancient Celts, who lived in a country called Bohemia (the outdated name of the Czech Republic), had a custom to sacrifice to their gods and spirits once a year.This was done in order to deserve their location, to protect themselves and their loved ones from disease, crop failure and natural disasters. In those days, the sacred tree was considered to be not a tree at all, and not even a pine tree, but an ordinary apple tree. This tree was decorated mainly with edible offerings: nuts, apples, eggs or gingerbread. Each type of delicacy was a symbol of a certain "good", for example, nuts were brought to reveal the sacraments, and sweets - to bless the family.
Fruits and sweets were not just hung out on an apple tree, they were painted with paints, wrapped in festive paper and foil. During the festive fun and dancing such "gifts" were eaten by the hosts and guests, while the packaging remained hanging on the branches. The most important treats of the holiday were considered apples, responsible for fertility and productivity. They were taken back in September and carefully stored until frost. It was this fruit that became the prototype of the first glass Christmas balls that annually decorate millions of Christmas trees around the globe.
According to an old legend, in one of the lean years in Bohemia there were not enough apples with which to decorate the sacred tree.Then the best glassmakers volunteered to make a replacement for juicy fruit on their own. They made colorful balls of the finest glass, which came to the liking of many buyers.
Since then, their production has grown and began to bring large profits, the idea was picked up first in Europe, and subsequently around the globe. To this day, handmade Czech glass balls are considered to be one of the most qualitative and expensive versions of this decoration, and the word "bohemian" has acquired the meaning of "expensive" and "elite".
Selection features
Acquired Christmas balls should be not only beautiful, but also high quality, then this fragile material will last much longer.
When buying should pay attention to some important aspects.
Price. High-quality glass products can not cost the same as plastic balls. It is worth being prepared for the fact that the decoration of a Christmas tree with classic glass balls can result in a decent amount.
Shop profile. Do not buy glass balls in the transitions and with the hands. In addition, Christmas tree decorations of dubious quality can also be sold in small shops near the house.The highest quality products can be purchased directly from the manufacturer or ordered by the master on their own. However, the price of such products will be much higher.
Appearance. On the ball should not be any chips and scuffs. It should be quite heavy, because the denser the glass, the more it weighs. Nevertheless, a branch of both natural and artificial spruce or pine should not be bent under the weight of one ball, otherwise it will simply fall from it and break. Before buying, you can slightly raise the metal mount and see how the upper edge of the ball is processed. On a quality product, the glass cut should be smooth and polished.
Glitter. You can lightly rub the shiny ball with your fingers to see if all the sparkles and decorations are glued to it firmly. Inside such a ball, nothing should rattle, and in the event of a slight collision with another glass product, it should ring thin.
Suspension. The larger and heavier the ball, the tighter and stronger the tape or rope on which it hangs should be. It is best of all if a ready-made mount is attached to the ball, since when you set it up yourself there is a great risk of dropping and splitting a fragile toy.
Packaging. On the box with one or several balls must be indicated the manufacturer with its address and telephone number. It must also indicate the full name of the product and its composition. Everything should be written so that you can easily read the information.
Storage and use
Glass is a rather fragile material, therefore it requires special attention during use and storage.
Hang the balls so that they do not touch the floor, each other and other pieces of furniture. A loop of thread or tape should be worn as far as possible on the branch, so as not to slip and fall off it. You should not hang up two or three toys on one branch, it will bend under their weight and everything will break.
You should not place the garland too close to the surface of the balls, the light bulbs should not in any way come into contact with their surface. If the family has large pets that are not sitting in cages, or small children, then you should give up the glass toys. They can not just break, but also hurt the child or puppy. If you still want to hang up an expensive decoration, it is best to choose a place for it at the height so that the little hooligans do not reach for alluring glitter.
After the New Year holidays, wipe the glass balls with a dry cloth and wrap in old newspapers or paper. Glass toys need to be folded in a dense plastic or cardboard box, at the bottom of which is laid soft fabric. It is best to store such a box in a dry dark place: in a closet or pantry. Access to glass toys should be restricted to animals and children.
In addition, you should not put such a box on top of the tower from other boxes, otherwise you can drop it and find only fragments inside instead of colorful balls.
Do it yourself
If the finished glass ornaments seem too expensive or not original enough, you can make them with your own hands with applying various patterns, beads and ribbons. To do this, you need ordinary transparent or monochromatic balls, which are much cheaper than the colored options.
You can decorate handicrafts using several techniques.
Paisley Patterns. Such patterns are applied using brushes and acrylic paints, as well as paints of the same color, but two shades: light and dark. These balls can be supplemented with a suitable color or pattern ribbon.
Texts with congratulations. Balls with the wishes of "Love", "Happiness" or "Good luck" will be an excellent decoration for the Christmas tree. Phrases can be simply written, and you can put glitter, preliminarily designating the word with glue and rolling a ball on a scattering of sequins.
Coloring from the inside. For this staining will not need even a brush. It is enough to remove the metal mount from the ball, pour a small amount of paint into it and, putting on the mount, roll the ball in different planes. It will be especially interesting to look at such a toy, if you fill it with paints of several colors, which, when mixed, will create interesting blurry patterns.
Patterns and paintings. With sufficient artistic skills you can draw whole Christmas pictures with Christmas tree, Santa Claus and various animals on the glass. Those who do not have such abilities may limit themselves to picking up various stars or snowflakes. For a more even pattern, you can use small stencils of plain tissue paper.
With pasted decor. Toys can be pasted over with rhinestones and beads, multi-colored ribbons and artificial flowers.Make them volumetric parts of polymer clay and even glue decorative tape. Original look Christmas balls in the marine theme, decorated with sand and shells.
With sparkles. Any pattern can be drawn on the ball with glue first, and then rolled or sprinkled on top with regular glitter. Perfect as a large glitter of Christmas crackers, and tiny grains of sand for nail design or makeup.
Such balls will serve not just an ornament for a New Year tree. Handmade product will be a great gift to friends and colleagues as an independent gift, as well as in addition to a basket with cosmetics or sweets. And the painting of such balls will take the whole family, starting with grandparents and ending with children, for several warm family evenings that will be remembered for a long time.
In the next video you will find a master class on decorating a glass ball using decoupage technique from Irina Kozhukhova.