Street Christmas decorations: tips on choosing and decorating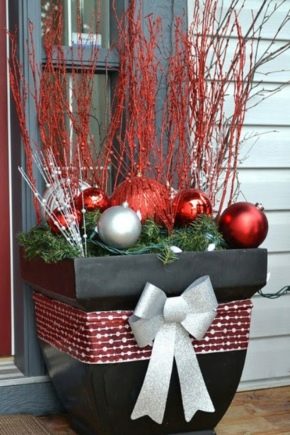 Times change, and the New Year as it was, and remains the most beloved holiday, which in children and adults is associated with fairy tale and magic. Real joy brings not only the New Year's Eve itself, but also weeks of waiting for a holiday, and preparation for it. If you live in your own home, then you should not limit yourself to decorating the interior - show imagination and create real beauty in the courtyard. Believe me, this will bring real pleasure to you and your children.
How to decorate?
Garlands
The very first thing that comes to mind when planning the design of a local area is garlands. Keep in mind that street decorations are different from home: they must be resistant to precipitation, high humidity and low temperatures.If you make them out of paper, cardboard or cloth, they will quickly lose their shape, or even completely spoil under the influence of snow or rain, which, unfortunately, is not uncommon in central Russia. Therefore, it is better to use plastic elements, for example, imitating fir branches, and supplement them with tinsel decorations, Christmas decorations and beautiful ribbons.
If you have a coniferous forest nearby, you can create amazing decorations for almost nothing, for this you just need to collect more cones and make of them a long garland that will frame the doorway or the railing of the porch. You can paint the bumps with moisture-resistant paint or sprinkle with sequins and varnish, in this case the garland will sparkle, creating a bright and mysterious shine.
Wreaths
The tradition to hang wreaths on the front door appeared to our compatriots quite recently, but firmly settled down, and the decorations themselves became indispensable attributes of the majority of New Year's exteriors. Moreover, their independent production provides real space for imagination and creativity, here everyone can fully express their artistic abilities.
At the same time it is not necessary to be limited to one piece of jewelry, you can hang wreaths around the perimeter of the house or fence, this will create a festive mood even on the approaches to the house.
To make a basis for a street wreath is very simple. You just need to take a thick wire and bend it into a circle, and already to this frame to attach decorations - Christmas balls, pine needles, cones and bows, you can sprinkle everything on top with artificial snow and glitter.
Such a wreath made with the use of garbage bags looks quite unusual, for this polyethylene is cut into thin strips and tightly tied in a knot around the entire circumference - it turns out unusual and stylish.
You can make an interesting decoration from the remains of PVC pipes. You can use products of different diameters. In order to create a wreath, it is necessary to cut the pipes into rings and glue the blanks with strong glue in the shape of a circle, then decorate with glitter, spruce branches and artificial snow. Perfectly hide the "ignoble" origin of the wreath painted with gold paint washers that need to be glued inside the rings.
If you do not have pipes, you can replace them with pieces of sleeves from toilet paper.Of course, in this case the decoration will last no more than one season, but then it can be quickly and easily made from available materials.
There is another version of the wreath, which, rather, can be called bohemian. This accessory is quite fashionable in recent years and it is very simple to make it: it represents bare branches woven together. To create a festive mood, they are decorated with Christmas balls, LED ribbon and beads depicting bright berries. Such a wreath can be safely hung on the front door, a column or fence.
Glitter and Shine
Probably everyone remembers the foreign Christmas films, where the houses are lavishly decorated with LED garlands and interesting sparkling figures near the porch. This creates a sense of celebration, fairy tales and magic. However, such garlands are quite expensive, so not every family can afford such decoration for their home, but you should not despair: You can create a New Year's mood from the most simple materials.
It is not necessary to hang the whole yard with light bulbs, a pair of garlands will be quite enough to create a stylish impression.And in order to make the decoration more atmospheric, you can cover the cord and the lamps themselves with golden spray paint and add shiny tinsel.
Surely in every house there are small glass jars, they are usually used for preserving vegetables, but on the eve of the main holiday of the year, you can find a more original use for them. For example, they can be painted in bright shades (yellow, red or orange), and then covered with a shimmering coating, decorated with ribbons, and inside put a candle or small LED light bulbs. Such decorations can be put on the porch, stairs or external window sills.
Excellent look homemade from Christmas decorations, enclosed in a transparent dome. Such "cases" are sold in many stores, they are filled with small balls, short LED lights and placed around the house - a festive mood will be guaranteed. By the way, such domes are made of durable glass, which withstands cold and does not beat if accidentally touched.
If you do not find blanks made of thick glass, then you can delve into my grandmother's chest.Most likely, you will find quite a few antique lamps and jugs that can be used to create radiant compositions in the courtyard.
Custom ideas
An interesting new year's flowerpot can be made from the simplest tin bucket. It should put a long logs. branches of pine and cones, and for greater effect, decorate with a glowing garland around the perimeter, which advantageously highlights the composition from the inside. On the outer rim of the tank you can fasten an interesting tape.
Some craftsmen make the so-called garage Christmas tree. To do this, on the doors of a garage or other outbuilding in the courtyard of wooden slats create the contour of the Christmas tree and with the help of double-sided tape attached to it a few plastic balls. Decorate the composition of a large bow.
You can create a mood in the gazebo or on the terrace with a bicycle, which in winter is "out of work". You can place a small herringbone or a basket with a Christmas composition over the front or rear wheel.
If your pallets are idle, then you can safely use them for New Year's decor of the local area. To do this, cut out the required length of them, combine them in the shape of a Christmas tree, paint and decorate to your taste. This Christmas tree on the cross can be placed anywhere in the yard.
If there is a good frosty weather outside, you can decorate the branches of trees growing in the courtyard. To do this, the balloons are filled with colored water, put the rope there and send it to the freezer. The very next day you will receive the perfect decoration for your garden: for this it will be enough just to remove the ball itself and hang an ice preparation on the branches.
Frozen water can also be used to create volumetric decorations of garden paths. The principle of operation here is the same, only the ball is filled with water in larger quantities so that the balls turn out to be large and bright.
Unfortunately, the weather in recent years is increasingly not at all fabulous, in December and the first half of January it rains quite often, and the ground is covered with mud and remnants of growing grass. In this case, it is possible to create a New Year's mood with the help of homemade snowmen made of plastic cups, as well as white wreaths of different sizes attached to the entrance doors. And, of course, if you have a Christmas tree growing in the yard, do not forget to decorate it.
How to decorate the street with Christmas decorations, see the following video.