How to decorate the room for the New Year?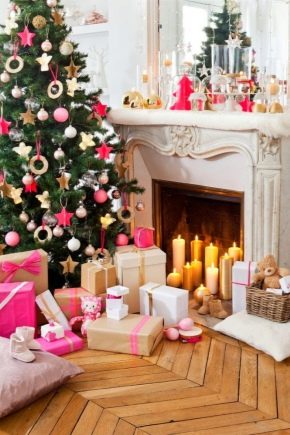 Where to begin?
In order to make it easier to determine the specific decorations, you should consider some of them and choose the ones you like the most.
New Year's windows
You can glue paper snowflakes with water, evenly moisten the decoration and gently place it on the glass. You can also use PVA glue. When using glue it is important that it does not damage the glass and was well washed off from the surface.
Lighting Design
You can succumb to intuition and stitch toys at your discretion, or find the exact pattern of a particular product and make it. In addition, it is worth visiting the specialized shops, which have a large selection of kits to create all kinds of decor. The kit usually includes patterns and all the necessary materials.
Festive wreaths and compositions
When making a New Year's wreath, you can use any decorations. If fantasy requires rest, then a more specific idea of ​​decorating a room for the New Year can be peeped in illustrated articles or magazines.
How to decorate a Christmas tree?
Figures of Santa Claus and the Snow Maiden or other New Year characters, placed under the Christmas tree, add a special fairy-tale atmosphere.
Depending on the room
Preparing a children's room for the New Year will be a real event for the child. The joint production of snowflakes, garlands and crafts will give the kid a sense of celebration. A great choice would be toys that personify the symbol of the coming year. Such cute plush animals are traditionally sold in many shops of the city on the eve of the New Year.
Style and colors
Images on the glasses, blue and white snowflakes and snowdrifts on a transparent surface will be associated with snow, ice and New Year's atmosphere. Good in the interior will be combined and different shades of the same color.
Beautiful examples