Design of a two-level apartment: interesting options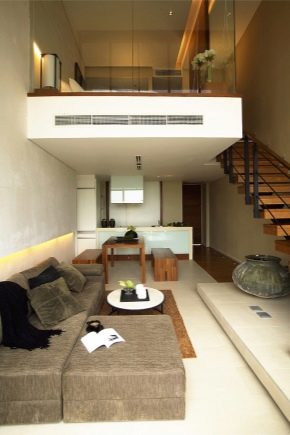 Special features
Layout
For a small family, this separation can be a stumbling block. The common part, on the contrary, unites people. In the lower part there is usually an entrance hall, kitchen, dining room, living room, library, playroom, etc.
Otherwise it could threaten the whole building. If this is possible, the overlap itself can be changed, for example, to make it transparent.
Two levels on one floor
If there is a kitchen at the bottom, the warm air and odors will rise up. You should evaluate the capabilities of the ventilation system, be sure to use the hood and air conditioning.
Lifting and lowering system
The space under the stairs can also be used. There you can equip storage boxes, build a small locker or a place to rest.
Beautiful options