Variants and features of redevelopment one-room apartment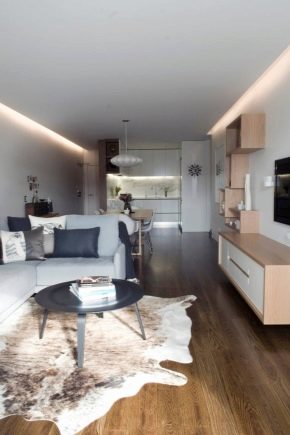 Types of buildings
Room Projects
The special charm of the studios is the abundance of space and light.
Rework options
Visual redevelopment
All changes in terms of visual redevelopment, it is desirable to carry out, armed with the recommendations of the designer or having previously studied the basic laws of zoning yourself.
More radical option
However, even with such permissible freedom in redevelopment, experts recommend not to touch the bathrooms, otherwise it will be incredibly difficult to tune the work of all communications.
How to make repairs?
Interesting design ideas
Sometimes even just a curved tabletop or sofa of unusual shape can be a great way to divide the space;
And there is always the opportunity to make the screen unevenly transparent - this will create a certain movement of air and light;
However, the owners of the apartment in the "Khrushchev" will have to forget about this option - redevelopment of this type is possible only if the ceiling height is at least 3 m.
This will save space by discarding the dinner table;
But it is worth remembering that the use of drywall as a partition does not provide absolutely no sound insulation. And also keep in mind that the wall of this material is not very strong, so it will not be possible to hang a heavy shelf or a heavy panel on it.