Features planning 4-room apartment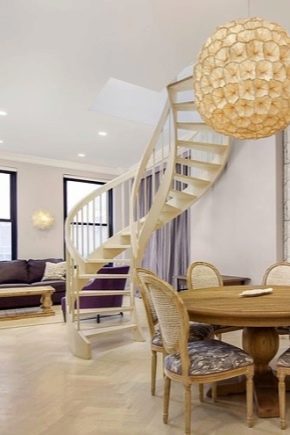 Contrary to the stereotypes that have developed, a large family in our country is not uncommon. Three children, a dog and an aquarium in the entire wall is quite difficult to place in a small-sized "Khrushchev" with two adjacent rooms, which means that it is time to make a constructive decision. Buying a four-room apartment will not only solve many everyday problems, but also provide a comfortable and cozy atmosphere for all family members. We bring to your attention the most important criteria that should be considered when choosing a 4-room apartment.
Layout
There are two basic principles, following which you can make the best choice when buying an apartment.
At first glance, they may seem mutually exclusive.
Living rooms should be as isolated from each other as possible;
the total space of the apartment should be as free and comfortable as possible.
To date, the real estate market there are several basic options for planning apartments with four living rooms.
The most preferred are the types of improved planning, in which (minimum) 3 bedrooms are isolated from each other, and the connecting link is a spacious hall, from which access to rooms, kitchen and utility rooms (if any) is provided.
Rooms in modern apartments with improved planning are primarily sleeping rooms, the size and location of which allow for the most comfortable living of all family members. In this case, one of the rooms, as a rule, is larger than the others: most often it is either the parents' bedroom or the living room. In a four-room apartment, each has not just his own corner, but more often his own room, which can be arranged on the basis of personal taste preferences.
The basis of any multi-room apartment is a large spacious hall, which provides free access to living rooms and the kitchen, and also allows you to conveniently and logically place the necessary furniture and household items.
In some cases, the hall can serve as a living room or even a living room, if we are talking about a really large family.
We should not forget about the toilet and bathroom. In the apartments of the improved planning, as a rule, there are 2 toilet rooms, one of which is combined with the bathroom. It is very convenient, especially in the morning when the whole family is going to work, to school or to kindergarten, isn't it?
Given the above, we can draw the following conclusions:
4-room apartment is a comfortable isolated bedroom and a spacious hall with direct access to living rooms;
the kitchen does not have to be large in size, but having 1-2 balconies or loggias will be a pleasant addition;
2 toilet rooms are better than one.
New or secondary market?
There is no definitive answer to this question at the moment. On the one hand, apartments in modern residential buildings are often larger in area than those on the secondary market. On the other hand, any housing that has changed at least one owner can become secondary, which means that you can buy a suitable four-room apartment for you in a house that was built 2-3 years ago, because the owner of this housing decided, for example to go for permanent residence abroad.
At the same time, an apartment in a brick house built in Soviet times does not necessarily have to be small-sized: 4 rooms with a large kitchen, a separate bathroom and two large balconies are not at all uncommon on the secondary housing market.
You need to understand a simple thing: the layout of the apartment should completely suit the buyer, since this is a serious purchase for many years, if not for life.
Therefore, the year of construction of the house is not as important as its internal and external condition. If you are satisfied with the layout, state of communications and geographical location, then the age of the house should not be embarrassing.
Secondary housing has such disadvantages as the general unsatisfactory condition of the apartment (lack of repair), or redecoration, which partially or completely does not suit you as potential buyers. However, the secondary market is really large in volume: you can choose for yourself options for apartments in good condition, and their cost will be almost at the same level as that of new buildings.
Large apartments of improved planning can be found in the "Stalinist" houses, and in modern residential complexes.The general state of communications and the availability of a developed infrastructure is not directly related to the type of residential building and its age. Conclusion: the choice of new or secondary housing is not a matter of principle.
Small kitchen: pros and cons
Very often, the kitchen area is a key factor in the decision to purchase a particular apartment. When it comes to small-scale planning, where every square centimeter is expensive, the kitchen area is of fundamental importance. However, the footage of a modern four-room apartment often neglects the size of the kitchen, leaving this room with its main function: cooking, storing food and dishes.
In apartments with a large number of rooms, the kitchen is more a subsidiary, utility room, rather than a full-fledged living room in which the whole family gathers in the evenings.
For parties or family get-togethers in a four-room apartment the living room is perfect. As a rule, this is the largest living room area.
For those who prefer large kitchen areas, there is good news: in modern multi-room apartments, the kitchen is often combined with a dining room, which allows you to eat in comfort in a large friendly company.In such dwellings, the dining room is at the same time a living room and can also serve as a playroom for children. From the kitchen itself, the dining room can be separated by a translucent partition or a full door.
There are also options for four-room apartments in which the kitchen is complemented by a spacious balcony or loggia. This is very convenient: in a large family, it is often not enough to do business with one fridge, and the furniture in the kitchen requires more than 2-3 people.
Part of the load (and considerable) in such cases is taken up by the loggia, where the second refrigerator, mother's fitness trainer, father's tools and even children's toys can be successfully accommodated. Moreover, the presence of a loggia or a balcony will be able to partially, if not completely, eliminate the problem of a small-sized kitchen.
We make a decision
Four-room apartment is an excellent choice for a large and friendly family, ready to make financial investments for their own comfort and well-being. If you are not sure which type of house is preferable - brick or panel, then you definitely were not mistaken in choosing the number of rooms in your future apartment, since a large area is a great opportunity.
If you can not afford a four-room apartment with improved planning, and you originally had a different plan, the secondary housing market is represented including small-sized options with four living rooms, and the number of bedrooms for a large family is always a priority.
It remains only to weigh the pros and cons, discard doubts and decide on the purchase of your new cozy family nest.
Four-room apartment is the best solution for those who are accustomed to the spacious and bright living spaces and appreciates the personal space. Moreover, it is not at all necessary to have many children in order to live in a four-room apartment. One of the rooms can easily be equipped with a game or library. Often in one of the rooms arrange a mini-gym or a combined living room.
The choice is just for you and make it quite simple. Modern housing market offers a huge number of options, among which you can find the best. The main thing to understand is that a 4-room apartment is space and comfort, personal space and a house for a large family. This is an opportunity not only to live comfortably in such an area, but also to receive guests.And this is really the right choice.
How interestingly to equip 4-room apartment, learn from the following video.