We select the layout for a studio apartment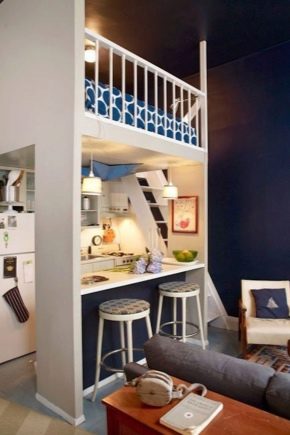 Special features
Such apartments can be found in modern residential areas of Moscow and Moscow region, as well as in the Stalinist low-rise buildings of the "quiet center" of the capital and other large cities of our country.
Advantages and disadvantages
This can also be attributed to a significant simplification in cleaning the apartment: it is much easier and more pleasant to carry out cleaning in a common space than in an apartment divided by partitions and doors.
We consider the area
Based on how many meters are available, you should plan the situation according to the zonal principle: in each zone there should be only what is really necessary there.
Form matters
In general, one should prefer the form of the studio that will be as functional and spacious as possible. Non-standard form can be quite compensated by a large number of niches and convenience of the location of the kitchen area and bathroom relative to the rest of the apartment space.
Lighting options
And here you can surrender to the will of taste and fantasy, not forgetting that the total area is, as a rule, seriously limited.
Important accents
Design
Beautiful examples of decor