Studio apartment: creating a beautiful interior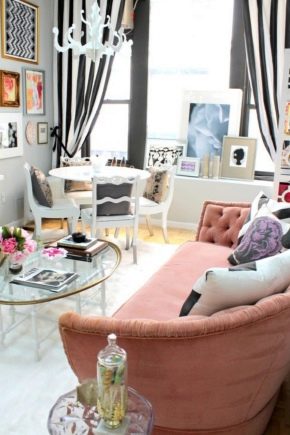 In Soviet times, NS Khrushchev attempted to solve the housing problem of the population through the rapid and cheap construction of high-rise buildings. Apartments turned out small, with tiny rooms and kitchens. In our time, the option of budget apartments have become studios. Studio apartment is a common room without borders and partitions, It is suitable for single people or childless couples.
The studio looks more spacious than a room in the "Khrushchev", but we must not forget that in one space there is a hall, a kitchen, a bedroom.
Special features
Studio apartments are typically 25-30-40 square meters. In shape, they are divided into square, rectangular and complex, the geometry of which is difficult to describe. Studios have a bathroom and a room combined with a kitchen.
The fashion for such a layout came to us from the West, where small rooms without kitchens for students were built. In our country, the space came to many taste.
If such a room is not less than 40 meters, it is perfect for guests and parties or as a workshop for a creative person, when the bedroom and kitchen are combined with the workplace.
Design
Start your life in the studio is to repair. Having worked well, you can create your dream apartment. Even before the start of work, a plan for arranging furniture is drawn up, outlets are outlined. For repair materials it is preferable to choose natural, eco-friendly, non-flammable, because you will have to live in a single, albeit spacious room.
Some people think that it is difficult to plan an interior in such an apartment, but this is not so. In a spacious room, you can carry out any idea and give a flight of fantasy, embody the most daring modern ideas.
When working on the design, you should consider certain nuances:
Comply with the harmony of a single space in which it is better not to make deaf partitions.
Do not overload the apartment with furniture to keep space and airiness.
Use multifunctional furniture, transformers.
Living room with the designated kitchen to create in the same style.
Studio apartments are not the same in shape, footage, lighting. This must be taken into account when creating the interior of the room.
For a small room, for example, 20 or 18 square meters, minimalist style is suitable. The walls in such a room should be light, the partitions should be mirrored, the stretch ceiling is glossy. If you do not mind, you can give part of the wall under the stereoscopic wallpaper. All this will visually expand the space.
In a small studio, right from the entrance, you can begin to build a storage system, several rows of shelves that go into the living room, where a TV is built between the shelves, and a folding worktop for the working area. On the other hand, behind the bathroom, there may be a kitchen, separated from the hall by a bar counter. It is also a dining area. In a cozy corner you can arrange a folding sofa. In a small studio it is better to use multifunctional furniture-transformer.
Even in a small room a partition is possible, which separates the sleeping area from the hall or the kitchen from the living room.But it should be a mirror, consisting of several parts, capable of moving, independently of each other.
As for the spacious premises, they do not need to build furniture in continuous lines. You can harmoniously select zones and bring your idea to a single style.
Zoning
Zoning will help family members who are in the same room every day to try not to interfere with each other. To do this, you should consider what the household will do during their stay in the studio. Perhaps, in addition to the kitchen, dining area, living room and bedroom, you need a working area or a playroom, if you have children. Everything should be clarified before repairbecause zoning is not only a partition and protecting furniture, but also podiums, levels of the ceiling, niches in the wall, in general, everything that is built in the process of work.
You can select zones with plasterboard partitions, curtains, painting walls with different colors.
When it comes time to arrange the furniture, some of her objects can also divide the room. A bar counter or a light rack with shelves that can be viewed from all sides will do.
You can zone the space with the help of lighting, properly hanging chandeliers and lamps in different parts of the room. Consider and natural source of light.
If there is only one window in the room, the functional areas should be placed along the line dividing the window in half, for example, on the right, the kitchen, on the left, the living room. This will help maximize the use of natural light.
Balcony and loggia can be combined with the room and organize, for example, a working area.
In spacious studios, you can settle with small children by arranging for them a small, but useful and meaningful space. Separating the area with children's furnishings, you should pay attention to the wallpaper that children may like. Nothing, that they are motley, and the rest of the walls are painted in one tone, such a "spot of joy" will maintain a good mood in the whole room. Children's furniture should be low, reachable, with rounded corners, but binding to the general style is obligatory.
When setting up a children's corner, special attention should be paid to environmental friendliness, to think over good lighting, and during sleep to organize a partition or curtain separating the children's area from the rest of the space.
Variety of styles
For comfort, style plays an important role. Even surrounded by the most comfortable furniture, comfort is not felt if the furniture is of different textures, size, color, and, possibly, of different eras. When zoning a room, you should maintain a general design theme. The style is chosen based on taste preferences.
Modern style suggests austerity and conciseness, furniture of clear forms, walls in muffled colors with a minimum amount of decor. You can let bright accents. Modern style is well suited for studios with a small area, where a simple interior looks better. Furniture is selected functional and restrained, corresponding to the modern rhythm of life.
Loft style was originally used for industrial workshops. In America, during the Great Depression, living rooms were made of them. Today, this style is loved by residents of large cities. It is good for those who love items of industrial decor.
This style requires high ceilings, due to them settles the second level. For example, a bed can be raised up by placing it on a lattice base and leading a metal ladder to it. In this style, a favorite technique is almost always used - a wall that has been polished to the brickwork.
For those who love calm traditional comfort with curtains and ruches, Provence style from the south of France will do. It is characterized by wrought-iron furniture, tablecloths with patterns, flowers in vases, and knitted plaids. Provence saturates the room with furniture: dressers, bedside tables, ottomans - everything fits. This style is good for romantic natures.
High tech is one of the modern styles, the complete opposite of Provence. He looks simple, recognizes straight furniture and sharp corners. Partitions can be made of plastic or glass. Metal and gloss are preferred. The interior resembles a drawing rather than a living room.
Choosing a style for a studio, you need to take into account its architectural features, lifestyle and number of people living. If everything is done correctly, it will be pleasant to live in such a room and you will always want to return home.
On how to avoid 10 common mistakes in the design of a studio apartment, see the following video.