Apartment design in the style of modern classics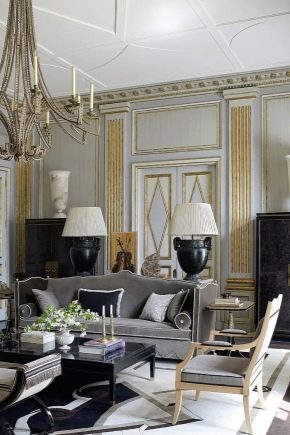 Special features
The most popular direction is considered to be the English neoclassicism, which is actively used in the form of minimalistic solutions using the most modern materials in the design.
Furniture
Finishing materials
The ceiling can be made in the form of a stretch fabric with a matte or glossy texture. This feature allows you to visually expand the room, fill it with lightness and airiness.
Color spectrum
Lighting
Curtains
With the help of properly selected curtains, you can easily implement any ideas in the design of a unique and inimitable space.
Room Solution
It is worth remembering that any glass and mirror elements make the apartment visually more spacious, which is important for this style of interior.
Beautiful ideas in the interior
Of particular importance is the level of lighting, because for apartments in this style it is important to have a lot of light. This is achieved by using different lighting fixtures located at certain points on the ceiling, walls, floor (depending on needs).