The original design of a small room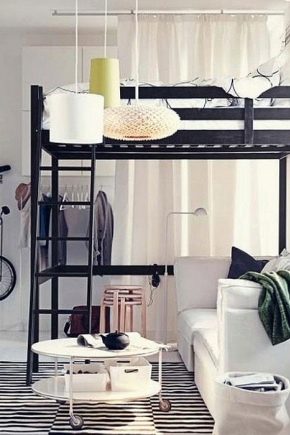 Rules for registration of a small room
It is somewhat easier and more convenient to plan the situation in it, since the length of the walls is the same everywhere. Therefore, furniture can be arranged as you like.
How to visually enlarge the space?
It is believed that too large a picture is not suitable for small spaces. However, in some cases, it gives a completely opposite effect - drawing attention to itself, the print distracts attention from the modest size of the surrounding space.
Division into zones
In the role of a partition can act as a wardrobe or "slide". Such a wall has a lot of open space and can be two-way. In addition, it can also act as a bedside table - you can put a phone, TV remote control or a book that you read before bedtime on it.
You can mount spotlights above the bed or sofa, and hang the above-mentioned LED strip above the TV. It can be glued not only on the ceiling, but also on the wall. With its help, you can make the image on the wallpaper mural.
Choosing a style
We select the interior of the room
Window decoration
By the way, at the height it is not necessary to hang the curtains at all.Neighbors will not look in the windows, and at night you can lower the rollers or the aforementioned blinds.
Little tricks
For example, with the help of a panel of remnants of old wallpaper, you can diversify even the most bland and boring interior. If fantasy is not enough, you can buy such a panel ready.
Design tricks
Avoid abundant items on the floor. Everything that can be raised should be placed above the floor level. Actively use open shelves. They should be placed at different heights so that the design does not seem flat.
Beautiful examples and options