Design stylish interiors with light floors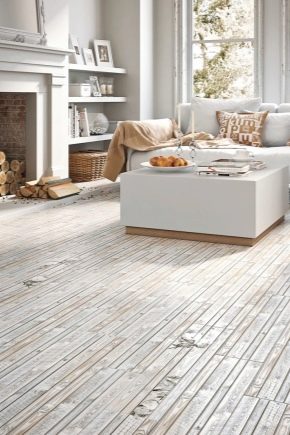 Features: pros and cons
Such enviable popularity is easily explained by the fact that the bright finish looks great in the interiors of a variety of styles. So, a beautiful white or beige floor can be organized both in the classical and in the avant-garde direction.
A large number of similar shades in one ensemble looks inharmonious and "presses" on the eyes.
Styles
Materials
What doors are combined?
Of course, the floor of a light shade is less capricious, since many colors look organically against its background. For example, if the room is lined with beautiful white coverings, then you can buy doors and baseboards of both similar (light) and contrasting dark colors.
We select under the walls
It is worth noting that most light colors look great in combination with contrasting and bright dark palettes.Designers say that having a bright floor covering, you can turn to the wall decoration of absolutely any color.
We combine with curtains
Lighting
In order to avoid unnecessarily noticeable light transition in the room, it is recommended to place the lighting devices in the corners. Also a good solution would be the lamps, installed next to different interior items. For this are great sconces, floor lamps and beautiful attachments.
Useful tips
Beautiful examples in the interior
Such an interior will be far from the standard, but if you place a snow-white fireplace, a round chandelier and a large mirror in it, you will achieve the amazing effect of a unique ensemble.