Interesting ideas for the interior of villas and private homes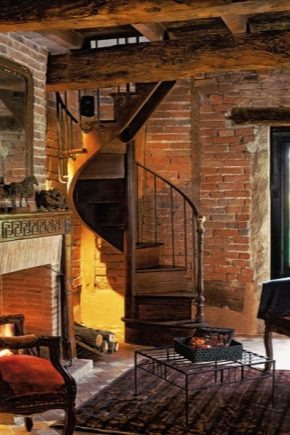 That is why the interior of a modern country house is very important, because a beautiful and comfortable interior space helps a person to fully relax and escape from the daily routine of the city.Well, to equip a country house or a small cottage is not difficult, even with a limited budget.
Special features
The most common variant of a country house is a wooden or brick structure with an area of ​​approximately 6x6 square meters. m in which there is a small space for the kitchen, often combined with a veranda, 2-3 rooms on the first floor and 1 large or 2 small rooms on the second floor or in the attic room.
Layout
Consider criteria such as the number of people who will live in the house, the possible increase in the family in the future, and the presence of small children.
In the comfort class house, space for additional bedrooms can be allocated, as well as the arrangement of a sauna or a bath.
Particular attention should be paid to the location of the furnace. The most practical is the option in which the furnace is located in the center of the living room, which allows you to heat the entire room and simultaneously zone it.
Style
Country Style or Rustic
Provence
It is appropriate to use lace tablecloths, curtains with lace trim, bouquets of wild flowers - dried flowers or fresh, wicker furniture, flowerpots and flower pots with a variety of plants. Interior items can be decorated with an appliqué in the style of decoupage, combining them with a single style.
"Russian country"
It is good if there are antiquities in the interior - a samovar, spinning wheel, a spindle or just various wood crafts, including hand-made ones.
Classic
The style of the Russian noble estate
Minimalism
Furniture
Finish
The main thing to remember about the relevance and useful properties of certain materials for a country house.
Design Ideas
Beautiful examples