Finishing facades of a private house: an overview of modern materials and innovative technologies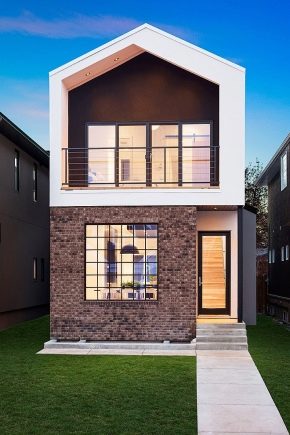 Features and device
To prevent a problem, it is necessary to sheathe the walls of the building with heat insulating materials. From the inside it is not recommended to do this, since they "eat up" the space of the room and are not always made from safe raw materials. But to finish the walls outside can be effectively and without damage to the usable area inside the house.
Requirements
In a separate category should be made requirements for the design of finishing materials. Unlike GOST and SNiP, they are not officially fixed on paper and are advisory in nature, but also important.
Advantages and disadvantages
Species
A review of popular materials will help to make the right choice.
Painting
Plaster
Decorative plaster makes it possible to imitate expensive materials: marble, stone.
Siding
Products look beautiful and are cheaper than stone. They are not afraid of moisture and sunlight, but the top layer turns out to be fragile, it is easily broken. The weight of cement siding is large. Need crate with the expectation of additional load.
Slabs
Sandwich panels
Suspended structures
Metal panels and imitation of natural materials are also similar in their characteristics to siding panels.
Block house
Tree
A rock
Slabs are cut from a solid block, and the wild stone is as close as possible to the natural form. Its edges are slightly rounded, and the thickness is cut to a maximum of 2 cm.
Brick
Brick varies in size, color and texture. A small red brick with a porous structure, as well as smooth ceramic products of red, beige, brown, and graphite colors are popular.
Clinker tiles
Tiles are cheaper than stone, and the result is quite similar. For installation, you need the skills of finishing work.
Brands
Professional Tips
Beautiful examples