What are the doors used "Berloga"?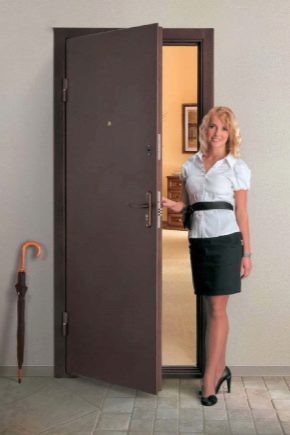 Entrance doors are an integral element of the protection of modern housing. To their purchase must be approached responsibly, because the right product is able to protect your home. The doors from the Russian manufacturer "Berloga" are among the best in their price segment, and various designs allow you to choose a model for every taste and budget. The products are manufactured in our own factory in the city of Yoshkar-Ola using modern equipment. Quality control takes place at all stages of production, including testing of raw materials through tests. Developers have more than 15 years of experience in the domestic market, follow all the new products in the industry and offer popular solutions for Russian consumers.
Special features
Due to its special design, these doors are protected from hacking.
Here are the main benefits:
Made of high-grade steel, 1.7 mm thick;
Anti-pivot system, which allows the door to remain in the closed position even with sawn hinges;
Almost all models have reliable locks of class 4, which is the highest for entrance doors;
The sealant is a high-tech material - rigid polyurethane foam, which does not require additional metal guides. This technology allows not to attract cold from the street;
The box is made of a solid profile, which additionally increases the structural strength, reliably resists corrosion and prevents distortion;
The basic package includes reliable accessories, namely, high-quality handles and modern eyes with a wide viewing angle.
Range
A variety of steel doors, produced at the plant "Argus", has a wide range of applications. All doors outside are powder painted, which is resistant to dirt and scratches. From the inside, MDF panels of all popular shades are used.Such a diverse palette will allow them to fit into any hallway, regardless of furniture design, because the color can be matched to the tone.
Products are made in a strict classical style that allows you to use them both at home and in office space.
There are several main series that differ structurally and, accordingly, have a different price range and scope. A model in an apartment in an apartment building, an entrance door for a private house or country house, office or any other room can be chosen.
Series "Economy" is the most affordable option for reliable protection. The basic package includes a box made of solid metal profile, 50 mm thick cloth and tubular filler. Also, all models are equipped with anti-detachable protection, two locks, a door handle on the slat and a high-quality eye. This modification will protect the apartment from intruders without strong costs for the budget, and the quality will be significantly higher than that of Chinese counterparts in the same price range.
Series "Siberia" designed for extra protection from the cold.It is used in private homes, in the country and in those places where there is a significant temperature difference inside and outside. The thickness of the blade is 55 mm, the platband is a one-piece design with the box, and the filler is two contours of rigid polyurethane foam. Unlike insulation from mineral wool, PPU does not need an additional frame, saves heat more reliably, has a dense structure and does not allow the doors to freeze through.
Decorative finishing of moisture-resistant material allows not to contact the room air with cold metal doors.
For variety "Optima" typical thickness of the canvas 60 mm, the same quality fittings, one-piece box with a platband and hinges with protection against removal, reinforced area of ​​the castle. Its design protects against drafts, and mineral wool, placed between the stiffeners, is used as a filler. This type of filler has a high noise insulation, which will be relevant if the entrance door is located near the elevator. According to customer reviews, it is this series that is the most popular, because it has an excellent price-performance ratio and a reliable lock of fourth class of burglary resistance.
Leaving the house under the protection of products in this series, you can not worry about the safety of property.
Model "Rock" characterized by additional protection against intruders. The box is a closed one-piece construction with a thickness of 75 mm. Warming is performed by two contours of tubular filler made of polyurethane foam, which contributes to its use in cold regions and where thermal insulation is important. Like all models of "Den", the doors are equipped with anti-detachable fasteners and reliable locks.
Additionally, models of this series are equipped with a gate-lock.
"Gala" and "Olga" - two more varieties from the budget line "Berloga". They have almost the same characteristics as the "Optima". A distinctive feature is the finish of the interior of the MDF-panel with a large mirror. It has an elegant design and is suitable for small hallways, visually increases the area and makes the room visually lighter. Insulated with mineral wool, which protects against noise coming from outside, and makes you feel at home in complete comfort.
Perhaps the most reliable series can be called "3K". According to statistics, the more difficult the front door, the less intruders will dare to storm it, and, most likely, will pass by. A distinctive feature of these doors is a reinforced box made of solid steel profile, whose thickness is 90 mm. The canvas has a thickness of 85 mm, and the insulation is a heat-resistant mineral wool Knauf Insulation "Thermo Roll", laid in three tubular contour.
However, the cost of such a door will be twice as high as the basic version of "Economy".
Merits
As you can see, the choice of safe doors is quite wide. Depending on the requirements for safety, noise and thermal insulation, location design, everyone will be able to choose a quality product from a domestic manufacturer. Reliable fittings are an added bonus to a solid door.
Another advantage is that the products of this brand are represented in all regions and to acquire it does not amount to great difficulties. All doors are certified and have a warranty period of service. They are very easy to operate and do not require additional care.
See the following video for what the "Den" doors are used for.