Door decoration and decor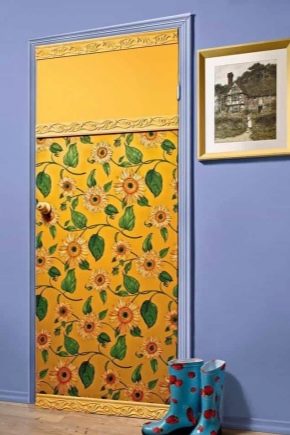 Thanks to such a simple solution, the interior will acquire individuality, which is quite difficult to achieve with ready-made store solutions.
In various styles
Having a tendency to frequent changes in space, but without drastic transformations, you can simply limit yourself to changing the color of the doors.
Decoupage technique is a great way to update door designs.
Here the main thing is to decide on the shape of the aperture: in the form of a rectangle, an arch - a round, ellipsoid, trapezoid, asymmetrical or imitation arch with openwork corners.
Purpose of premises
DIY patterns
Highlight the volume of projections and the originality of the design of the decorative overlays on the embossed door leafs will help paint with interesting effects on metal, leather or marble.
Coloring nuances
Decorating doors with more complex floristic or fancy patterns implies the use of stencils.
Features painting acrylic
How to decorate?
Decoupage
Such doors will organically complement any interior, making it unique and memorable.
Decorative rock
Such a decision is also justified when it is necessary to hide the errors of finishing. They can be easily hidden if you put a stone around the door block, capturing the problem areas.
Wallpaper
Regardless of the type of wallpaper used, it will be necessary to prepare the surface of the door before pasting, which means cleaning the old paint, filling the cracks, sanding and degreasing the door leaf.
Stencils
The advantages are obvious - speed, simplicity and accessibility for everyone.
Tile
This option is great for door designs with a mirror.
Moldings
New favorites of designers - a pair of green with white, yellow with blue, blue with red.
Refining an old canvas
Then choose the method of decoration.It is still better to entrust the decor of antique doors to craftsmen who are familiar with the finer points of working with wood of various species.
Design options