Features hidden door closers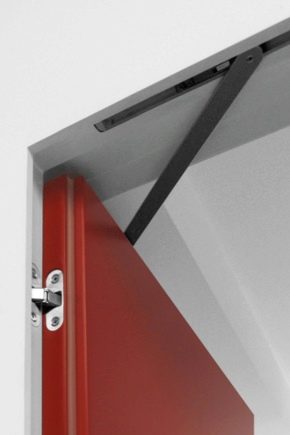 Kinds
At the choice of these devices it is necessary to consider the device of products
Overhead
Products with a sliding rod can transmit forces from the door leaf to the spring using thrust. All these elements are located in a single housing, which is filled with oil. This makes it possible to regulate the course of the door.The installation of these devices is made taking into account the direction of movement of the doors.
Outdoor
A special feature is the design of such devices - this is a rod located vertically, on which there are springs. When you open the door, he winds the spring, and then returns to the opposite position. The mechanism is attached to the door with screws.
Hidden
Loop closers
Sliding Door Closers
The disadvantage of such devices is that they have pins sticking out of the body, which can be damaged, and therefore they are often placed in inaccessible places.
Installation and technological features
Adjustment process
But it is also important to consider that the built-in closer can work differently depending on the temperature in the room. If the room is cooled or overheated, then under each of the temperature regimes produce settings.
How to choose?
Choose a ball system is on optimal performance. It is also supposed to be able to install closers with higher characteristics, which will prolong their service life.