Choosing doors from solid oak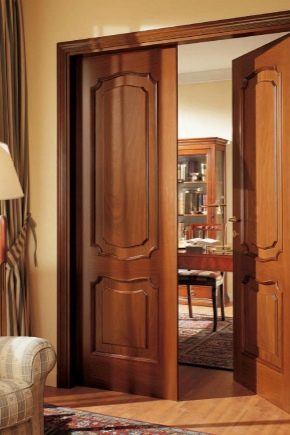 Advantages and disadvantages
Kinds
Input
Competently chosen entrance door will play the role of not only the business card of your home, but also emphasize the consistency of the owners and perform a protective function.
Interior
Interior doors made of natural material are more popular than the input options. That is why the range of such products is richer.
Material
Solid array
The only disadvantage of such products is that they have a very large weight, so their installation should be as efficient and professional as possible so that the structure does not deform over time.
From glued solid wood
Veneered blocks
The highest quality models can boast additional sound and thermal insulation characteristics.
Colour
How to choose?
Decide on the type of material construction.The most expensive are luxurious solid-wood products, and the most affordable are veneered specimens and varieties of spliced ​​oak.
Design
For elaborate and pompous interiors, it is recommended to buy the most expensive solid-wood doors, since such ensembles are always distinguished by their wealth and luxury.
Options in the interior