Features forged doors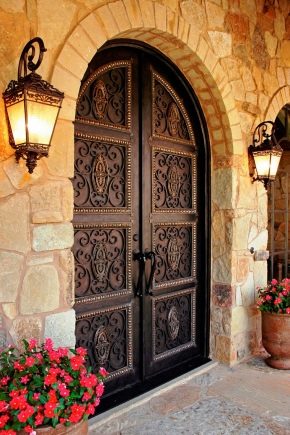 Kinds
Glass visually makes forged doors less heavy. Also popular are the combined models with the top insert and the forged element.
Materials
The inner side of the product is often sheathed with wood. Popular wooden models with forged metal plates.
Dimensions
Elements of construction
Tips
In addition, the plastic model is moisture resistant and has high sound and heat insulation performance.
This model is suitable for small apartments that can not be said about the metal door designs.
Wood models are considered a classic and versatile option for all types of premises. It is easy to choose the right door for installation at the entrance of the room, and as an interior option.
How to choose?
Alternatively, you can install a model with forged linings. The basis of this product is the usual door leaf, which are attached forged decorative elements.
Advantages and disadvantages
Design
Such elements look stylish and elegant, so forged handles can be considered as an additional decoration of the door structure.
Successful examples and beautiful options