Stickers on the door: design options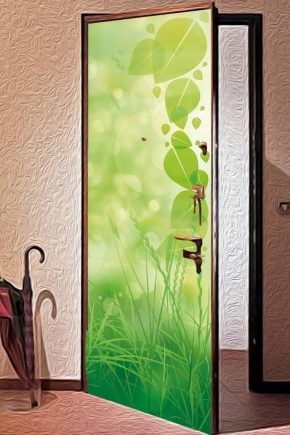 Special features
Mirror and matte stickers are also relevant for glass doors. They make the door multifunctional and turn a transparent surface into a more intimate one.
It is worth noting some of the features in sticking stickers. For such a design solution only dull doors are suitable, of course, if we are not talking about modest stickers-corners.
Materials
Plot selection
For kitchen
If the kitchen is made in nude shades of beige color and chocolate scale, the best solution would be the image on the door of coffee beans, miniature cups or fresh pastries, as if descended from the bakery shop windows.
For bathroom and toilet
For living room
For the nursery
At the front door
In the bedroom
Also, designers recommend to opt for floral motifs or landscapes that mimic the window. The fact is that the bedroom in some cases has no window, and therefore the mention of it, even as an image, can significantly enliven the room.
Interesting options in the interior