Choosing trim on the door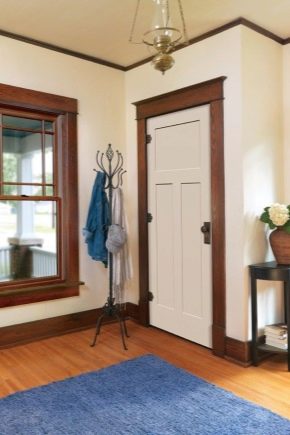 Special features
The installation of the platbands is the final touch in the transformation of the whole room, therefore, their selection and installation should be approached very carefully, having thought through all the details and having studied not only the features, but also the types of these important elements.
Kinds
The platbands with a figured and semicircular surface cannot be installed in this way, since a convex or figured end part with such an arrangement will rise above the surface of the docked bar.
Materials
In order to trim the MDF coincided in tone with the door frame, canvas, dobori and other elements, they are revetted.
Plastic platbands, in difference to products from MDF, can be installed outdoors: they will perfectly withstand all atmospheric phenomena.
Dimensions
Design
Carved platbands are wooden planks that are flat or convex in shape, with rounded edges and decorated with a carved pattern across the entire surface.
How to choose?
But it is worth remembering that the slats with a width of more than 100 mm can visually make the structure heavy and even ridiculous, so you should opt for the standard dimensions of the slats.
If you plan to stretch the cables through the door, then plastic platbands with cable channels located on the inside of the planks will be the best option.
Installation
For the trim which is cut at an angle of 90 degrees, the best option would be to leave the ends of the vertical slats open. With this method of undercut, the vertical strips close the slices of the horizontal platband on both sides, and their open ends are located at the top and are almost imperceptible to the eyes.
In order to nail the planks correctly and have the opportunity to correct the casing in case of an error, it is not necessary to hammer all the studs at once - it is enough to fix the plank in the center and at the base, without hammering them to the end.
Tips