How to choose the door under the laminate?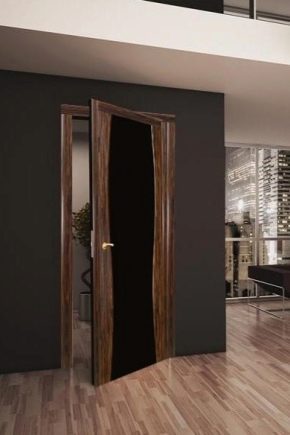 How should combine colors in the interior?
In order for the door to look favorably and stylishly in a room, its color should not differ from certain elements.
Many experts recommend in the choice of the palette to start from the name of the tree species.
What products are suitable for light laminate?
The combination of white floor and doors is not the best solution. Laminate should be a few tones darker than the structure itself.
Dark floor and dark doors
Experts say that such a combination is appropriate only where the walls are made in pastel colors. Otherwise, the situation will look too cold.
In one color
Determine the wood of the laminate in advance. It is from this point that you start when choosing a suitable door. In this case, the laminate and interior design will create the right balance between themselves.
Ideas for the application of several shades
Particular attention should be paid to the material from which these elements are made. For laminate it is best to choose wooden or veneered models. The ideal solution would be to use laminated baseboards.
How to choose the door to the color of the walls?
When using textured wallpaper is recommended to refer to neutral and concise shades. A good choice would be plain plain interior doors.
How to pick up the invoice?
Combination rules
A selection of beautiful ideas