How to paint the door?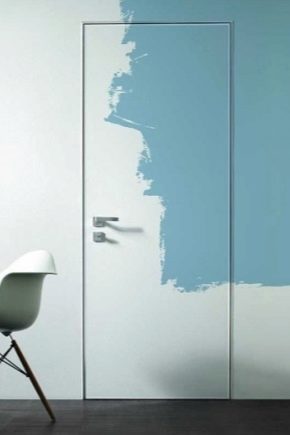 Benefits
Do not underestimate the role of the door leaf and its colors in the interior, as often such elements radically change the tone of the ensemble and give it a particular style.
Many users prefer to paint the doors also due to the fact that everyone will be able to cope with this process. It is not too complicated and does not require special knowledge and skills. It is enough to know only the basic basics of painting door panels.
Materials Products
Because of their smooth surface, they are often used to create hidden interior canvases. Otherwise, these elements are called doors "invisible."
How to paint in the apartment with your own hands?
Required tools
How to choose a color?
Technology painting new canvases
All work must be carried out indoors so that dust and dirt does not fall on the treated canvas.
Before painting the canvas must be treated with a primer.First, all the grooves of the canvas are covered with it, and then smooth surfaces.
If a wood stain is chosen for the finishing of a new canvas, then it is not necessary to use a primer.
Cardinal color change
Now you need to give the canvas to dry completely. It is desirable that it be in a horizontal position.
How to remove the old paint?
How fast to putty?
Two-color staining
After drying and processing the base layer, you can re-stick the tape onto it and start painting the previously closed areas in black.
We make the door to the old
Exclusive decor
Original room interior design options