Latticed doors: types and features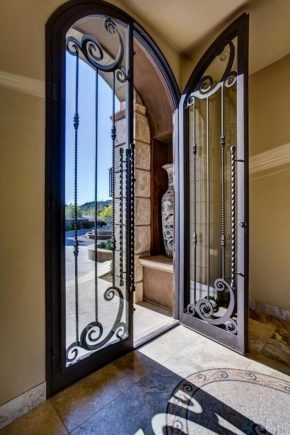 Characteristic
Decorative options, decorated with wrought iron details, will become a stylish and key element of the facade, attracting the attention of all people passing by.
Special features
It is worth noting that forging is an expensive pleasure, and if you want to decorate your house or other room with a stylish model, you will have to spend money.
Decor
When choosing a door with the addition of these elements, it is necessary to take into account that each material has individual operational properties.Array and laminate, for example, do not tolerate high humidity.
Species
Swing
Doors of this type can be made by hand with appropriate experience and the necessary tools.
Sliding
Experts do not recommend to make such doors independently. The only thing that makes the craftsmen do such constructions with their own hands is the interest in the unusual structure of the sliding type structure.
Wood
It should be noted that metal structures are used exclusively as entrance doors.
Field of use
Tambury
In modern stores you can find products of this type, which experts have identified in a separate group - tambour lattice doors.
Cellars and warehouses
The main thing is to choose a strong and reliable door that will retain its shape over a long period of operation. In this area, swing options are more often used.
Houses
It is recommended to pay attention to painted products. The doors are covered with bronze, golden or silver paint and wooden models.
Ventilated door
It should be noted that it is possible to install this system in almost any model of the door, the main thing is to be able to make a corresponding hole in the canvas.
Lattice grip
In order to self-assemble the grid into the base, creating a grid from any web, you will need a welding machine. As a rule, this process does not take much time and does not require special skills.