Variants of door design using laminate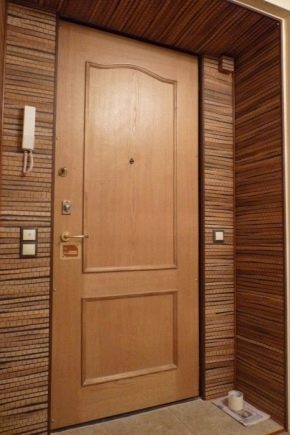 Using laminate, you can significantly improve the appearance of the door, but it is required to do it as carefully as possible.
What can sheathe?
Decorative panels will create an equally beautiful look for exterior and interior doors, which is hardly distinguishable from a coating of fine wood.
Dimensions
This circumstance is especially important for the doors that go directly to the street.
Plating materials
It is not difficult, for example, to take a laminate of oak wenge color or another exotic color and apply it in the interior. It is much easier than creating an original coating from real wood.
Colour
Regardless of the option chosen, it is undesirable to use a floor covering of identical tone.
Advantages and disadvantages
Finishing features
Making the steel door laminate do it yourself, you need to take measures against corrosion.
Accessories
To decorate the slopes will have to use or exactly the same laminate as the door itself,or combined with it.
Decor
Design
Famous manufacturers and reviews
If you do not want to choose for a long time, just purchase goods from any well-known manufacturer.
Successful examples and options