Doors to the pantry: standard and non-standard options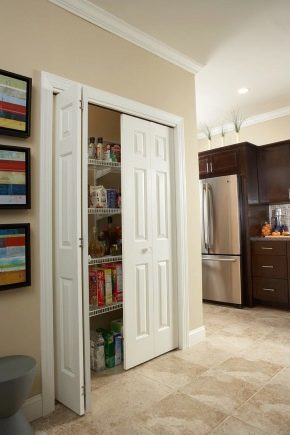 Role
When making such a room it is necessary to take into account the style of the apartment. Harmonious design presupposes compliance with each other of all components, this also applies to the door.
Constructions
Non-standard options
How to decorate?
Which is better to put?
An original, non-standard option for a small apartment will be the installation of mirrored doors that visually increase the space.
What to replace?
The use of drapery fabric instead of the door - quite a popular option. The curtains from dense fabric differing in ease and safety, very well are suitable for the storeroom.
The choice is always the owner of the dwelling. It is quite natural that he knows better than others which option in his house will look best.
Beautiful examples in the interior