Doors Velldoris: advantages and disadvantages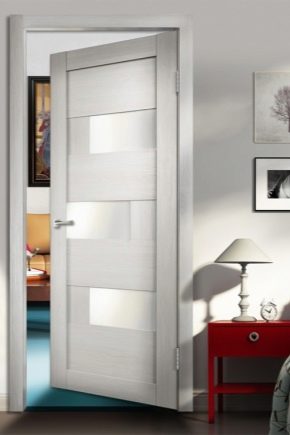 No one can imagine a modern apartment without interior doors. And everyone treats the choice of design, color and company with special care. The Russian North-West market has long been won by the company Velldoris, which is beginning to cover other regions of the country.
About company
Velldoris company produces interior doors and doors for non-residential office space. The door door collections for the house meet all quality standards, have a modern design, fit well into the interior of any apartment. For non-residential premises, the company has developed a unique line of reinforced, sound-proof, fire-resistant, and pendulum doors with increased wear resistance.
Company employees are constantly improving.Visiting exhibition centers in Europe, they improve their skills and use global innovations in the production of doors for the Russian market.
Woodworking equipment that is used in the factory, the most modern, produced in Italy and Germany. All equipment is mechanized, which allows you to create products of factory quality and differ from the products of handicraft production.
Choosing doors to your apartment, feel free to stop at the doors of Velldoris: modern design, good quality, a large number of models at a low price will pleasantly surprise you.
Materials
Modern doors of budget class almost all manufacturers make from MDF. This material is made from wood dust with a special glue. A distinctive feature of MDF is wear resistance, durability, moisture resistance and environmental friendliness.
MDF canvas requires decorative trim. Velldoris company offers its customers a huge selection of finishing options for every taste.
One of the most popular options these days is considered eco shpon. The coating received its popularity due to the noble appearance, natural tones.The canvas with an ekoshpon well imitates natural wood, has a relief structure resembling woody furrows. This door looks elegant and fits well with any interior.
For those who want to save money, the company offers to consider coverage. from laminate. A special film, with an imitation of a tree pattern, is applied to the base. Laminate does not fade, does not yellow, is considered durable, but does not tolerate scratches, as it is very thin.
For courageous people with fantasy, Velldoris offers to independently choose any color that the company will paint a special canvas. Such non-standard solutions allow you to translate the most interesting ideas into reality.
Plastic is considered the most wear-resistant of modern synthetic materials.
Relatively thick sheets of different colors and textures are glued in a special way on the base of the canvas. These doors are able to serve for a long time and not lose their attractiveness for many years in the most passable places - hotels, shops, offices. Options for texture and color mass.
Interior
Velldoris offers 12 unique collections of interior doors. Interi and Duplex echo each other in design and selection of materials.Both collections are made of high-quality ekoshpon and offer models with decorative elements of glass, which can also be chosen - matte white, matte black and transparent, but with a matte effect.
Doors Collections Interi and Duplex perfectly complement the apartment, made in the Scandinavian style: the severity of lines and geometric shapes emphasize the cold elegance of the interior.
Name collection Provance speaks for itself. The interiors in the style of the south of France - sunny and gentle, will be complemented by doors from this collection.
Collections Modern and Smart z High-tech design and minimalistly decorated apartments will be emphasized.
Classico - created for classic interiors, and Alaska and Caspian are very indifferent, because, depending on the choice of color and material, they are ready to fit into any interior.
Due to the fact that the manufacturer offers a huge number of colors, such as bleached, gilded, chocolate oak, wenge, cappuccino, the choice becomes pleasant. Such shades are very fashionable in modern design, but due to neutrality will be relevant for a very long time.
Special
Company Velldoris can pleasantly surprise not only those who are looking for the door to their home.
In offices, shops, hospitals and business centers with high traffic becomes a very important property of wear resistance. Special Series Smart project designed just for this purpose.
Since the products with a number of properties, such as fireproof, with increased sound insulation, must meet a number of requirements in accordance with GOST, the company Velldoris is ready to provide all the necessary certificates.
Smart and Smart Sound Series They are distinguished by the fact that they are considered a "lightweight" option. The filling of the door is cellular, with increased sound insulation, achieved due to the reinforced tubular or double frame, inside which is filled with mineral wool. This series is great for offices, hotels and even special recording studios. All requirements for increased sound insulation will be met.
Smart Force Series has excellent sound insulation properties, has a special structural strength, geometry stability and high wear resistance. Cloth with a tubular chipboard is different in that it has a fairly high mass and is necessarily mounted on three loops. Doors of the Smart Force series can be installed in an apartment as a second entrance door, also used in non-residential premises.
Smart Fire Series - is a collection of doors with refractory properties.A special foaming tape is laid around the perimeter of the web, which, when a fire occurs, densely clogs all the gaps and does not allow, on the one hand, smoke and fire to enter neighboring rooms, and on the other, it does not create a draft that can intensify the fire. Inside the door is a layer of mineral wool, which is non-flammable and completely environmentally friendly, and therefore does not emit toxic substances with strong heating.
These doors are designed for commercial premises, such as warehouses, hotel rooms. This series is suitable for doors that lead to the elevator shaft, for rooms equipped with a large number of electrical equipment.
Consumer reviews
After reviewing reviews of the company Velldoris, it becomes obvious that the products of the company are very popular. Very often, these are the doors that residents of the North-West region install into their apartments, but there are also clients from other areas.
Owners unequivocally note that the ratio "price-quality" is just perfect. With the existing shortcomings of interior doors (sometimes symmetry is slightly broken, eco-vents or plastic have a tear) everything is leveled, thanks to the price.
Happy owners advise Velldoris products and call for them to at least take a closer look.
On how to install the door with your own hands, see below.