Dressing room, its design and content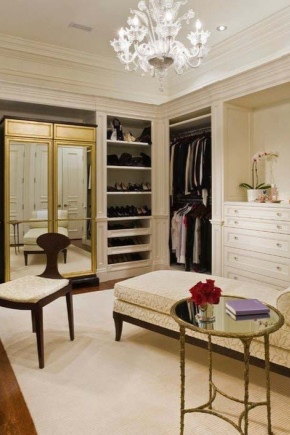 Features and benefits
Purpose
Types of wardrobe
Open
Radius
With window
Mirror
Transformer
Passing
Forms
Design project development
First you need to decide on the form and concept, according to your wishes and the layout of the apartment.
Interior arrangement
Design
Filling
Lighting
Install a backlight on each shelf, you can also make the backlight on the walls and even on the floor to make it easier to find the right pair of shoes.
Additional elements
Choosing shelves
All-in-one
Modular
Materials
Drywall
Tree
Metal
Glass
Fabric
Color solutions
Styles
Classical
Classic is a good investment in the future, because it will not lose its relevance and will not lose an attractive appearance.

Great luck, if the dressing room has a window, because it can be draped beautifully. For curtains used organza, patterned silk, satin - classic textiles. It will be well combined patterned carpet on the floor.
Loft
Well, if the floor is wooden, but also fit laminate with the effect of aging.
Provence
Scandinavian
Accommodation options
Wardrobe as an alternative
Tips for choosing