Doors to the dressing room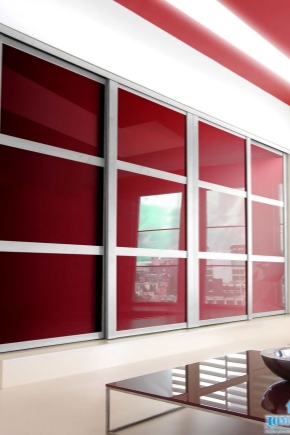 Types of systems and mechanisms
Swing
Choosing doors of this type, you should consider one important thing - they require free space in the room to open. This often becomes a problem for rooms of small footage or non-standard planning.
Sliding
Ways to open sliding doors are variable: canvases canmove along the walls of the dressing room, they can be pulled out by almost a quarter of a meter, and then spread out to the sides, docked at the corners in the corner walk-in closets.
Folding
Swivel
Alternative options instead of the door
Curtains
Jalousie
Slatted doors
Secret
Invisible doors in the dressing room can be of two types: swing and penny. At the same time penny will be allocated more, since the sliding mechanism is more difficult to hide.
Rolled
Materials
Mirror - a necessary attribute of a dressing room. It can be used as a whole, and fragmentary. For example, as an insert into the door-book or one of the compartment doors.
Bamboo, leather and rattan are used as natural materials in the production of doors.