How to equip a dressing room?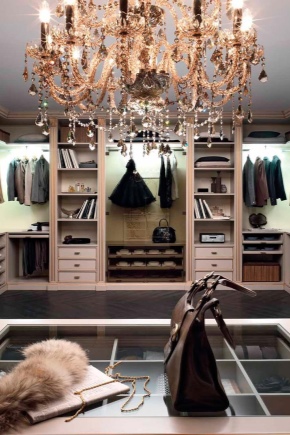 Features of arrangement
Organizing space, conditionally divide it into several zones to accommodate things, depending on the frequency of their use.
Mesh systems easily fit into any room. It can be both spacious and very small room. Often, such instances are equipped with walk-in closets, storerooms or large-sized wardrobes.
For more convenient storage of things in the room, you can install shelves, rods, hangers, hooks and baskets. With the help of such parts you can place outfits and accessories as accurately and as practical as possible.
In large-sized wardrobe rooms, you can arrange not only clothes, shoes and accessories, but also various household items. This can be an iron, vacuum cleaner or ironing board.It is recommended to allocate for them a separate zone.
Types of wardrobe
In the l-shaped design, you can not make open shelves. If this design is located in the living room or bedroom, then it is better to give preference to closed specimens, because they will look more aesthetically pleasing.
Space zoning
Doors and lighting
Selection of a suitable instance depends on the free area, layout and preferences of the owners.
Internal filling
The pantograph is called a special retractable bar, which can be lowered lower or raised to the upper tiers of the structure. Such a thing is ideal for hiding off-season things.
Drawers can be fully or partially extended using a knob or push. Many models have closers.