Small wardrobe room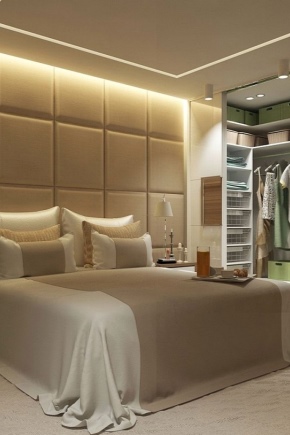 Features and benefits
If you properly design the space and leave enough space, the dressing room can be used as a fitting room, so the need for mirrors in the room will also disappear.
Kinds
Dimensions
To deal with the minimum length of the dressing room, you need to put together the length of all cabinets and other furniture that you plan to place under one wall.
Design
You can also store clothes in the dressing room seasonally, that is, hang those that you are wearing at the moment, and hide irrelevant ones at the moment in a small closet or chest of drawers.
Remember that the design of the dressing room should match the design of the room. In order not to overload the space, give preference to stylish minimalism.
Internal filling
Storage systems
In such a wardrobe system there are no doors, partitions and side walls. But the frame itself may have a different content - shelves, cargo, bars, baskets and much more.
You can buy a ready-made modular system or make an order.
Ventilation and light
Another good solution - the lamps in the floor, located on the line of furniture.
The most optimal solution is to install an air-conditioning system with an anti-bacterial filter. They will clear the air and remove any unpleasant odors, so clothes will always smell nice and fresh.
Interior design
Both options - quite expensive, if your budget is limited, instead of the door, you can use roller blinds, shutters or just a decorative partition.
Top will be shelves on which you can keep blankets, blankets, bedding, suitcases and other voluminous things that are rarely in everyday life.
Of course, for linen it is better to install several closed boxes. To save space, it needs to be laid out vertically, twisted into small tubes. Use a special separator-organizer, which will keep all the laundry in order.
In order not to open each box in search of the desired pair, they can be beautifully signed.
Where to place?
In the pantry
Give preference to the linear placement of furniture. Such a dressing room will resemble a wardrobe, and you can choose the required number of shelves, drawers, hooks and other things.
In the hall
How to do it yourself?
Do not forget to leave a little space at the entrance - so you can easily move around the dressing room.Large mirror, so that it does not occupy precious space, attach to the door.
From gypsum board (chipboard or MDF board)
Experts advise to just paint the walls, however, for this you need to carry out a thorough putty and polishing, so that they are perfectly smooth.
It is desirable that the decoration of the walls and floor coincides with the design of the room in which it is located.
Wardrobe rack