Furniture for the wardrobe room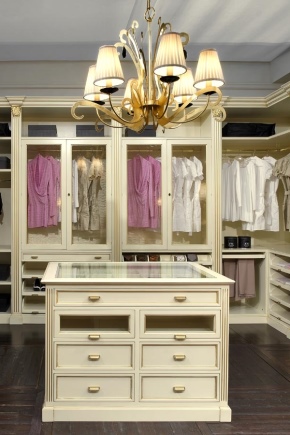 Features and benefits
The dressing room can also be entered into the interior with the help of a curtain, which is cheaper than a wardrobe, which must have the appropriate look.
Species
One of the advantages over other types of structures is the possibility of using side panels.They can attach various holders for clothes, belts, ties and ironing boards, as well as hung or shoe shelves.
Note that the cost of such a system of natural wood is quite high, and the use of veneered panels can degrade aesthetics.
If necessary, you can purchase a variation of furniture on wheels for greater mobility inside the dressing room.
Types of furniture
The weight that a pantograph can support is strongly dependent on its size.So, with a length of 0.8-1 m, you can place up to 15 kg on it, and on a hanging-lift more than a meter you will only be able to place 7-8 kg.
Tips for choosing
When choosing a particular type of structure, it is also necessary to take into account the weight of what will be stored in it. The most reliable in this regard will be hull systems.