Filling for cabinets and walk-in closets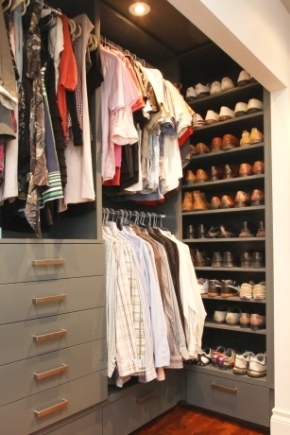 Features and benefits
Types and location
But for small apartments, where every square meter counts, an excellent option would be an angular model of the cabinet, which takes up little space, fits perfectly into any interior and saves space.
Most often, these rooms are located inside the bedroom, which is very convenient for gathering. But if there is no dressing room, you can always add an interior with a small closet where only the most necessary things will be stored.
How to equip?
Various kinds of accessories and fillers are not necessary, but in many respects they simplify life and stimulate maintenance of order in storage systems.
Internal filling
Interesting design solutions
It is noteworthy that the model is equipped with a corner open rack,which can serve as an element of decor - for storing various interior items, and a functional part - for storing family albums and books.