Wardrobe shelves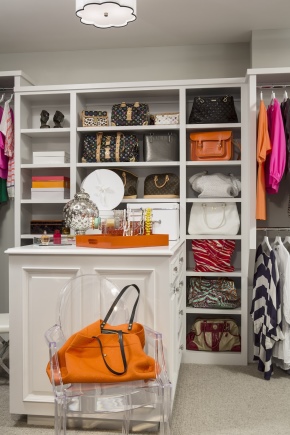 Many homeowners try to optimize the space as much as possible. Especially it concerns wardrobe where practically all clothes settle down.
To solve such problems, you can use shelves of various sizes. These designs have become full-fledged attributes of modern furniture and are very popular.
Benefits
Shelves in the dressing room use a very long time, but today they are gaining immense popularity. They allow you to optimally use every square meter, which is important for small apartments.
Wardrobe shelves have several advantages:
Easy to assemble, allowing you to install them yourself.
Allow you to place a lot of clothes in a small area
A large model range that allows you to choose products not only in form but also in style.
Relatively low cost. This characteristic depends, first of all, on the materials and complexity of the product.
Simplicity of design. It is possible to make wardrobe shelves independently if you have a little experience with wood or metal.
Modular systems allow you to combine individual parts. Thus, you can choose cabinets for interiors of any size.
Kinds
Wardrobe shelves are products in the form of rectangles or squares that allow you to place certain things on them. Depending on the design features, they can be divided into several types:
Bottom designs. Usually they are made in the form of stands or small boxes.
Top shelves. In these offices, experts recommend storing seasonal items.
Side shelves are small in size, as they are used for the location of daily clothing.
Shoe shelves. They are separate or combined lockers.Only a certain type of shoe is placed in their cells to eliminate mixing. Today, mesh models are increasingly common, which are much easier to care for and have a long service life.
The centerpiece of this locker is the compartment for jackets, raincoats and other outerwear. It has the largest volume and is equipped with a hanger. Depending on the design features of the shelves can be divided into open and closed.
The size of the cells in these cabinets depends on the manufacturer. Their width varies from 40 to 80 cm. The depth of the shelf is adjusted to the specific dimensions of the dressing room.
What are they doing?
Wardrobe shelves are simple products that are practical and versatile. They are made of several popular materials:
Tree. The material is durable and durable. You can build shelves from almost any breed. One of the drawbacks is the template array design, which needs to be further decorated with paint or varnishes.
Metal. Metal shelves are made of both aluminum and stainless steel. Often this material is used to form a frame or decorate wood products.Metal constructions are fully collapsible, which makes it easy to transport and assemble them in any room. The service life of such shelves is not limited, as they perfectly withstand the effects of external factors.
Plastic. Production differs in the small price and durability. This type of shelf is relatively rare. In most cases, plastic can make individual elements of these systems.
Laminated chipboard. Shelves made of it are very common, as the material is easily processed and has an attractive appearance. Designs able to withstand considerable weight. To get a quality rack, it is necessary to make all the details only on special machines - this will allow you to get even and right angles, without distortions and chips.
Plywood. This material is auxiliary and used for the formation of shelves. It is often combined with products such as metal and natural wood.
How to arrange?
Dressing room is the main place to store clothes. It can be located in a small room.Therefore, it is important to correctly arrange the shelves inside to maximize the use of space. This can be done in several ways:
Placing the rack along the longest wall. This approach is used in rooms that are fenced off by sliding doors. This arrangement frees the side space and gives you the opportunity to access all the shelves.
Shelving on two sides perfect for walk-through rooms, where the shelves will form a kind of corridor. It should be understood that these products will additionally take place.
U-shaped location. Use this option only for large rooms. Such designs are the most capacious, as they occupy the maximum area.
L-type Dressing rooms of this type assume placement of shelves along two joined walls. Install them preferably in areas where the length of both parts exceeds 1.2 m.
If the room is small and does not allow to place full wardrobe shelves, you should think about the use of sliding systems. With their help, you can get a full-fledged functional with minimal space losses.
How to choose for a room?
Many dressing rooms today are made to order, which allows you to tailor them to specific conditions. Selecting similar constructions, you should follow some simple rules:
How many people will store their belongings in the dressing room. It is necessary to divide it into several separate zones.
What things will be located on the shelves. If it is only shoes, shirts, pants, t-shirts, etc., then the size of the design may be relatively small. When it is planned to store winter and summer clothes (jackets, etc.), it is important to select the appropriate cell size.
Be sure to consider the length of the dresses. Depending on this parameter, you need to select the appropriate hangers on which they will be located. The height of these designs should be greater than the longest dress.
As for the dimensions of the shelves, they all depend on their specific purpose. The width of the cell varies from 30 (for shirts) to 80 cm (dresses, jackets). In its turn, the depth in most cases is standard and does not exceed 60 cm. If you lack these characteristics, you can order a model with individually selected dimensions.
The height of the shelves for wardrobe can also vary. Manufacturers are guided by the growth of the person In this case, the upper shelves are arranged in such a way that the owner will be able to fill them only by standing, not the stepladder. Therefore, experts recommend placing in them things that you do not often wear (winter jackets, etc.).
Design Ideas
Creating a dressing room today has become a whole art. Many owners trust its design to experienced designers. But you can make it original yourself, using many ready-made solutions:
Central Island. This approach involves the use of a special closet in the dressing room, where you can store everything from handbags to cosmetics. The shape of the island is chosen individually for the style of shelves.
Dressing. When making shelves for wardrobe, do not dwell on one particular material. Try to combine everything from chipboard to glass. The glass shelves are perfectly combined with metal racks coated with chrome or nickel. If you prefer wood, then these designs can be decorated with carving or using blend.
One of the trends is equipping the shelves with maximum functionality.: from the illumination of each cell, to retractable or folding systems.
To get an effective and original dressing room, its design should be entrusted to the designer. It optimizes all the characteristics of the shelves to your desires and capabilities.
How to make a dressing room with your own hands - see more in the video below.